Estée Lauder's Love Your Lips collection comes just in time for Valentine's Day to give your lips that perfect, seductive look. You'll have him saying "Be My Valentine" in no time!
Love Your Lips is a limited-edition collection of 12 lip-loving Estée Lauder Signature Hydra Lustre Lipstick shades and 4 NEW Kissable Lip Glosses. Each lipstick features a special "L♥VE" logo on the bullet and the glosses are packaged in uniquely designed vials specially adorned with the same logo. These two undeniably attractive lip formulas will make sure your lips don't go unnoticed this Valentine's Day.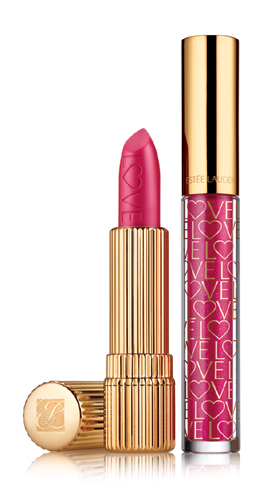 Estée Lauder Signature Lipstick's lustrous, creamy, comfortable formula delivers hours of moisture and wear to lips with a sensual, high-shine finish. Each lipstick carries a Valentine's message of "L♥VE" engraved on the front and back of the bullet. Available in 12 lip-loving shades including 3 new shades: Cherry Kiss, Pink Kiss, and Coral Kiss.
Estée Lauder Kissable Lip Gloss is a non-tacky, cushioned formula that feels comfortable on the lips. This lustful gloss provides sheer coverage and a shimmering, kissable finish. Wear alone for a subtle look, or layer over Signature Lipstick for added shine. Kissable Lip Gloss is available in 4 all new, voluptuous shades: Sweet Kiss, Cherry Kiss, Pink Kiss, and Coral Kiss.
Pucker Up this Valentine's Day with the new "Love Your Lips" Limited Edition Lip Collection.
Available February 2010, at Estée Lauder counters nationwide and www.esteelauder.com
Suggested Retail Price:
ESTÉE LAUDER SIGNATURE LIPSTICK $19.50
KISSABLE LIP GLOSS $18.00
Shade Lineup:
ESTÉE LAUDER SIGNATURE LIPSTICK KISSABLE LIP GLOSS
PINK TO BERRY PINK TO BERRY
Lustrous Pink Sweet Kiss
Lush Rose Cherry Kiss
NEW! Cherry Kiss Pink Kiss
Perfect Pink
NEW! Pink Kiss
MAUVE TO PLUM CORAL TO RED
Radiant Wine Coral Kiss
Rich Berry
Chelsea Rose
Radiant Rose
CORAL TO RED
NEW! Coral Kiss
Portofino Coral
Spanish Red