NARS worked with Evan Rachel Wood at the 69th Annual Golden Globe Awards, who is nominated for Mildred Pierce. Makeup by Toby Fleischman for NARS Cosmetics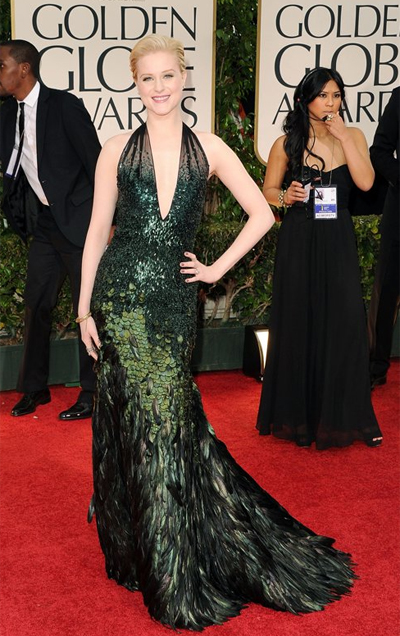 Makeup Inspiration: "Sometimes the stars just align (pun intended) and tonight with nominee Evan Rachel Wood, her look came together so organically. Of course with a Gucci Premiere gown such as hers, it was all about the dress so we wanted to keep the make up clean and soft.
Evan Rachel Wood wears NARS at the 2012 Golden Globes
When I saw the new NARS Spring collection, it was as if the products were created specifically for this look! We had so much fun getting ready for the big day. We rocked out to some of our favorite tunes (Lykke Li), ate some yummy snacks (cookies of course) and most importantly laughed!"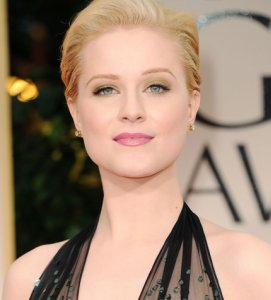 Evan Rachel Wood's Makeup Look
Paramaribo Duo Eyeshadow (new for Spring 2012) was the exact gilded gold and bronze we wanted to create a soft metallic eye that would pick up the accent of the feathers. Then we used Almay One Coat Nourishing Mascara on the lashes to finish the eye (ok maybe more than one coat!).
To keep the rest of the face feminine, the new NARS Gaiety Blush (new for Spring 2012) was amazing for a sheer flush of pink on the cheek along with a swipe of good-old standby NARS Angelika Blush to add a bit of shimmer.
NARS Sex Machine Velvet Matte Lip Pencil topped off with Como Larger Than Life Lip Gloss gave Evan a soft mauve pink lip to complete the look.