Foot Tools: I'm always on the look out for quick and easy tools to help my sometimes dry cracked feet. Especially in the summer time, I wear flip flops a lot living in Arizona which takes a toll on my feet. My latest great discovery is: Tweezerman Pink Travel Pedro Callus Stone, $12, (also comes is in light aqua green). Amazing! It actually works in gently filling off my dry skin on my heels. I use it on dry feet, in the shower, and on my at-home pedicure days. I also find the shape of the Pedero very comfortable to hold and to 'operate'. After exfoliating my feet I like to use body lotions by Jergens, Curel, or Lubriderm my drugstore jewels! Success:)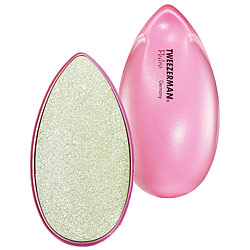 Pink Travel Pedro Callus Stone: A handy foot exfoliating tool. Tweezerman Pink Travel Pedro Callus Stone reduces stubborn calluses with ease. It is ergonomically designed to fit in the palm of your hand for maximum control and comfort. Keep your feet in perfectly soft, beautiful condition. This is step one for a fabulous at-home pedicure! This essential tool's durable ceramic material holds up to frequent use and works effectively—wet or dry. A hole in the base allows water to drain.
Available at Sephora.com and ULTA.