All Posts Tagged With: "Biore"
New face cleanser on the beauty block is BIORE Combination Skin Balancing Cleanser. It is not fragrance-free however it is oil-free.
Celebrtiy Makeup Artist Melanie Inglesis used Biore's new Combination Skin Balancing Cleanser to prep Stacy Keibler's skin for the 2012 Oscars.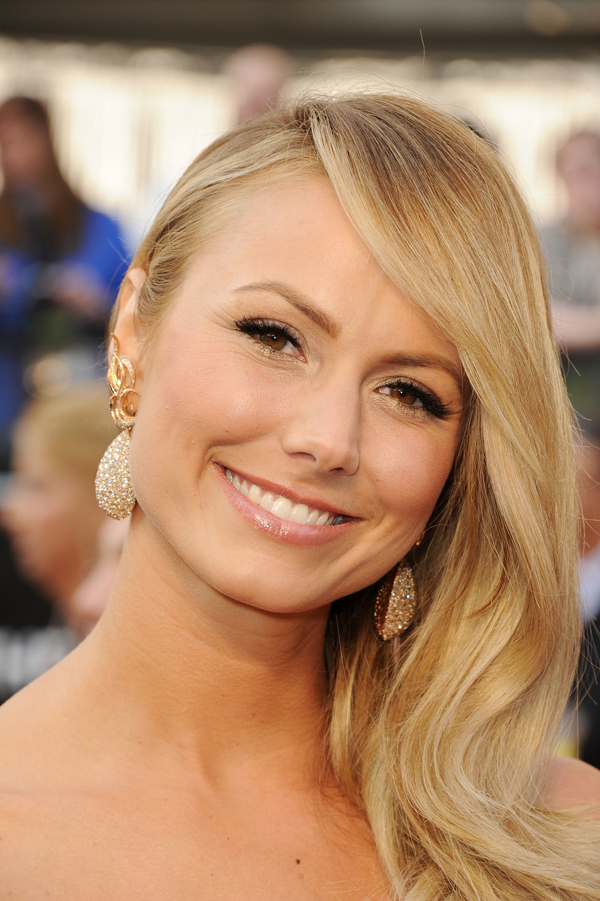 Stacy Keibler at the Oscars 2012
"Before I start applying makeup, I make sure my clients have clean, fresh skin," says Melanie. "That's why I prepped Stacy's skin by cleansing with the new Biore Combination Skin Balancing Cleanser. Then I created a beautiful, dewy look that lets her natural skin shine through. I wanted to achieve a young, fresh look that didn't overshadow the dress."
This is a Sponsored Post written by me on behalf of KAO Brands. All opinions are 100% mine. Win a tempting trip to Las Vegas for you and 3 of your friends with $1,500 in spending money!
How to enter to WIN: Simply check out the Temptation is Beautiful and  to learn more about the sweepstakes follow their instructions.
The PRIZES:
* A daily tempting beauty basket filled with KAO Brands best of beauty products, such as: John Frieda, Jergens, Curel, Biore, and Ban will be awarded everyday so be sure to get in your daily entries!
* The Grand Prize of a tempting trip to Las Vegas for you and 3 of your friends with $1,500 in spending money!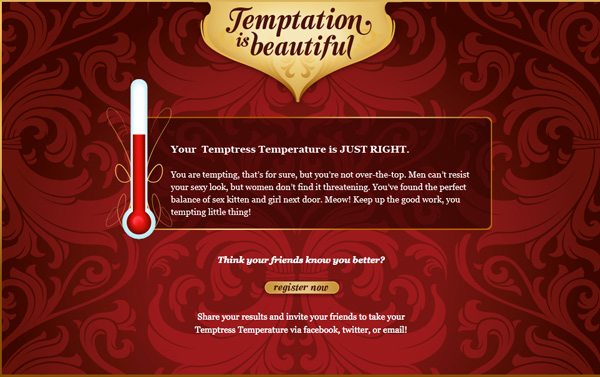 Also make sure to take your Temptress Temperature interactive quiz and Share your Temptress Temperate on Facebook, and Twitter and let your friends know if you are "hot, hot, hot" or "cool as a cucumber"! Also let Talking Makeup know your Temptress Temperature, by simply leaving your comment under this post. I took mine (image above and looks like my Temptress Temperature is Just Right:), the girl who hosted the quiz was hilarious! Remember sharing your score with your friends will get you bonus entries in to the sweepstakes!
Rules: Contest is for US Residents only. Official Rules!
The following are Marta's picks of her favorite skincare products for face and body & also perfume 2009 ! Please note that the numbers don't go in order of importance.
Hey guys, I don't look a day over 25 thanks to my top skincare products LOL (see images below).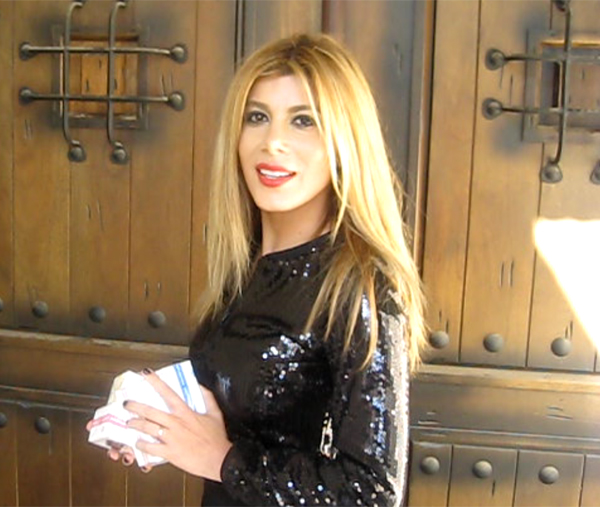 Marta Walsh Founder & Editor of Talking Makeup
Face Cleanser
1. Philosophy purity made simple one-step facial cleanser
2. CHANEL PRECISION Gel Purete: Purity + Anti Pollution Foaming Gel Cleanser
3. Liz Earle Cleanse & Polish Hot Cloth Cleanser
4. Mission Skincare Active Daily Facial Cleanser Sweet Citrus By Serena Williams5. Purpose Gentle Cleansing Wash 
5. Mario Badescu Enzyme Cleansing Gel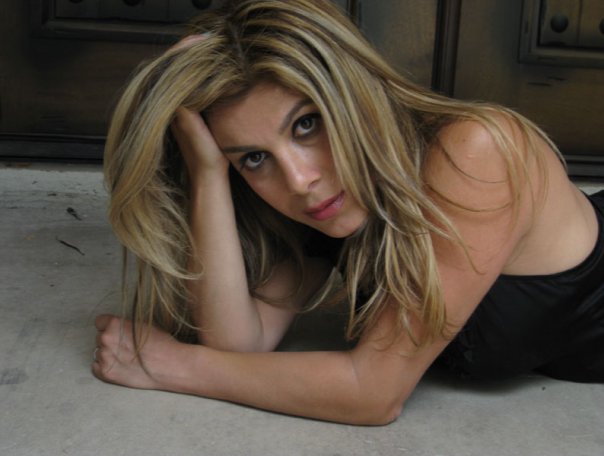 Makeup Removers & Eye Makeup Removers
1. Boscia MakeUp BreakUp Cool Cleansing Oil
2. La Roche-Posay Rosaliac Micellar Make-Up Removal gel Cleanses and Soothes Face & Eyes
3. Lumene Eye Makeup Remover Senstive Touch
4. Almay Oil-Free Eye Makeup Remover Pads
5. Talika lash conditioning cleanser oil free mascara & waterproof mascara
6. Physicians Formula Organic Wear Facial Makeup Remover Lotion
7. Pampers Sensitives Fragrance Free Baby Wipes
Looking for last minute stocking stuffers?! We've got you covered! Check it out…
PHILIP B TRAVEL KIT
Give a little luxury this holiday season without breaking the banks! The PHILIP B Travel Kit ($30) combines PHILIP B favorites they're good for you, beautifully effective and instantly transporting. Delicate flower oils nourish hair from the inside out, leaving it thick and shiny without added weight. Custom-blended plant essences hydrate thick, unruly curls for perfect bounce and movement. Naturally aromatic botanicals soothe or invigorate your senses on contact.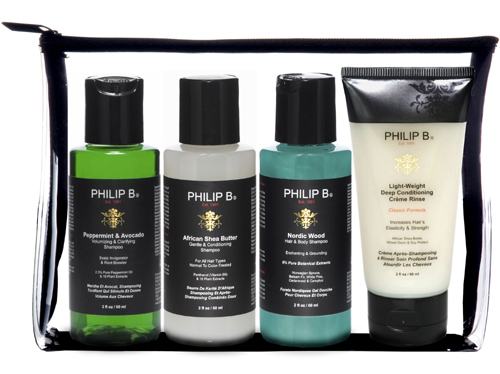 Summer is in full swing but that doesn't mean it's too late to give your skin the SPF protection it deserves! Here are two skin protection products that might help:
Biore Dual Fusion Moisturizer + SPF 30: Lightweight dual formula for protection and hydration, $14.99.
Bronze your body with Carol's Daughter Gelee De Soleil Browing Oil: Contains SPF 15, protects the sun from UVA/UVB rays. Deeply bronzes and hydrates for a long lasting summer tan. Delicious coconut and pineapples fragrances pamper the senses. Paraben, mineral oil, petroleum, and artificial color FREE, $14.00.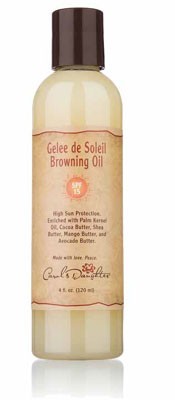 Watch Marta's video blog for today introducing the new Biore Even Smoother Microderm Exfoliator.
Biore Even Smoother Microderm Exfoliator is an affordable exfoliator and a must-have for aging skin! It exfoliates my skin and keeps it smooth and ready for my makeup! Also, perfect for Acne prone skin.
SRP: $14.99. Available at select food, drug and mass merchant stores. For more information visit: www.biore.com

Marta's video blog for today was provided by www.misslush.com  style & beauty video sharing website. Upload your video today, just register it's FREE, and upload!
More about Biore Even Smoother Microderm Exfoliator…
The Biore Daily Recharging Skincare Collection is a new skincare collection that removes impurities and toxins and puts nourishing ingredients in.
Give skin a fresh start with new Bioré Daily Recharging, a refreshing collection designed to detoxify and renew skin. The routine using the Bioré Daily Recharging products takes just three minutes to rejuvenate skin and soothe the senses, giving you skin that looks and feels healthier.
Formulated with a synergistic blend of naturally derived ingredients, each Bioré Daily Recharging product instantly refreshes and detoxifies skin. Gentle enough for daily use, the products contain combination of green coconut water and Indian ginseng, both renowned for their rejuvenating properties. Treat yourself-and your skin-to "me time" using Bioré Daily Recharging products.
FROM THE EXPERT: "Women have so little down time these days, it's important to take a few minutes to recharge every day," says dermatologist Dr. Diane Berson. "Bioré Daily Recharging products are a perfect way to do something good for yourself and for your skin, giving you a healthier, more radiant appearance."
WHERE TO BUY: Select food, drug and mass merchant stores. For more information, visit www.biore.com .
Indulge your skin with these uplifting and energizing Bioré Daily Recharging products and find the way you like to recharge:
Bioré Detoxify Daily Scrub ($6.99):
What It Does: Exfoliates and purifies to reveal fresh, glowing skin.How It Does It: Two sizes of perfectly smooth exfoliants detoxify your skin without damaging it while extracts like aloe, rosemary, sage, nettle and chamomile soothe and refresh. Gentle cleansing ingredients in a creamy base rinse smooth and leave skin shine-free.

The new Biore Mandarin Blossom Nose Strips provides a refreshing citrus-scent for a more enjoyable pore strip experience. Now when you buy a limited-edition eight-count pack of original Biore Pore Strips, you can try out the Mandarin Blossom experience for spring with two free bonus Biore Mandarin Blossom Nose Strips.
For a spa experience at home, use Biore Mandarin Blossom Nose Strips to invigorate the senses as you purify the skin. The fresh mandarin blossom fragrance creates a soothing atmosphere for your favorite cleansing ritual.

Biore Mandarin Blossom Nose Strips.
How Biore Mandarin Blossom Nose Strips work? Like the original strips, Biore Mandarin Blossom Nose Strips bond to the dirt and oil that have settled in each pore and lifts out pore-clogging agents, removing weeks of build-up in just 10 minutes. With continued use of Biore Mandarin Blossom Nose Strips, the appearance of pores dimishes and your overall complexion is cleaner, fresher, and healthier looking.
From the expert: "Just washing your face is not enough, " says Dermatologist Diane Berson. "It is the dirt and oil below the surface that can really cause complexion problems. I recommend taking a hot shower to open up pores, washing face with Biore Blemish Fighting Ice Cleanser which will provide a better surface to adhere strip. Then use a Biore Mandarin Blossom Nose Strips once a week to keep pores clean and clog-free deep below the surface."
Price: $5.99 for 8 strips. Where to find them: Select food, drug and massmerchant stores. For more information, visit: www.biore.com