All Posts Tagged With: "Night Serum"
Valentine's Day is upon us, and the Kiehl's Since 1851 stores and Kiehls.com offer a varied selection of sweet, soothing, and sensual gift sets for one's loved ones.
Overnight Lavender Renewal – $72.00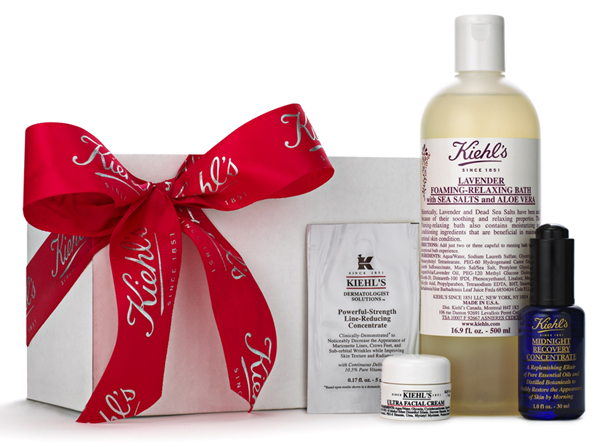 • Midnight Recovery Concentrate NEW FROM KIEHL'S, FEB. '10
• Lavender Foaming-Relaxing Bath with Sea Salts and Aloe, 16.9oz
• Ultra Facial Cream (deluxe)
• Powerful-Strength Line-Reducing Concentrate (packette)
The Biore Daily Recharging Skincare Collection is a new skincare collection that removes impurities and toxins and puts nourishing ingredients in.
Give skin a fresh start with new Bioré Daily Recharging, a refreshing collection designed to detoxify and renew skin. The routine using the Bioré Daily Recharging products takes just three minutes to rejuvenate skin and soothe the senses, giving you skin that looks and feels healthier.
Formulated with a synergistic blend of naturally derived ingredients, each Bioré Daily Recharging product instantly refreshes and detoxifies skin. Gentle enough for daily use, the products contain combination of green coconut water and Indian ginseng, both renowned for their rejuvenating properties. Treat yourself-and your skin-to "me time" using Bioré Daily Recharging products.
FROM THE EXPERT: "Women have so little down time these days, it's important to take a few minutes to recharge every day," says dermatologist Dr. Diane Berson. "Bioré Daily Recharging products are a perfect way to do something good for yourself and for your skin, giving you a healthier, more radiant appearance."
WHERE TO BUY: Select food, drug and mass merchant stores. For more information, visit www.biore.com .
Indulge your skin with these uplifting and energizing Bioré Daily Recharging products and find the way you like to recharge:
Bioré Detoxify Daily Scrub ($6.99):
What It Does: Exfoliates and purifies to reveal fresh, glowing skin.How It Does It: Two sizes of perfectly smooth exfoliants detoxify your skin without damaging it while extracts like aloe, rosemary, sage, nettle and chamomile soothe and refresh. Gentle cleansing ingredients in a creamy base rinse smooth and leave skin shine-free.