I can't rave enough about this body lotion: Itch Defense Skin Balancing Moisture Lotion for dry itchy skin from the Curél skincare experts. I've been looking for a body lotion like this that I can purchase at a local drugstore for the longest time. As you probably already know, I'm a fragrance-free body lotion fanatic. I do not like lotions that smell. I do not want it to clash with my D&G The One perfume. It hydrates my skin so well and it's perfect if you have sensitive skin or dry winter skin. Itch Defense Skin Balancing Moisture Lotion From Curél is on Marta's top list of body lotions!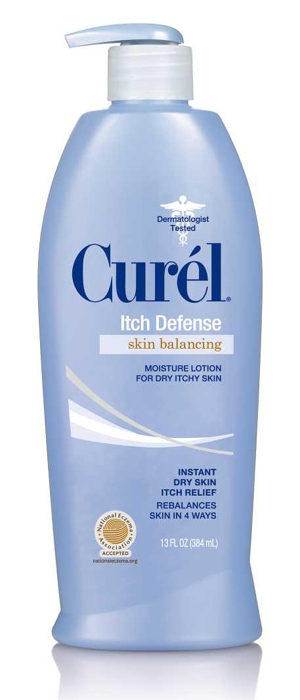 Itch Defense Skin Balancing Moisture Lotion From Curél the official comany description:
WHAT IT IS: Instant itch relief. Over one-third of women experience itchy skin all the time, regardless of season. And over 15 million people—including children—suffer from the most common type of eczema, which causes an intense itch. So why are so many people scratching? They haven't found relief—until now. Introducing Curél Itch Defense Skin Balancing Moisture Lotion for Dry Itchy Skin, a revolutionary solution to the irritation that causes itching.
Curél Itch Defense moisture lotion rebalances four essential components of healthy skin, restoring skin to its natural moisture levels:
• Humectants and Emollients boost moisturization and leave skin feeling protected
• Natural Ceramides restore skin's barrier function and regulate skin's ability to hold moisture
• Accelerated Cellular Turnover minimizes dry, flaky skin and smoothes the skin's surface, balancing the dry skin cycle
• Balanced pH levels return skin to a healthy equilibrium
By fundamentally rebalancing skin, Curél Itch Defense moisture lotion relieves dryness and itching instantly and stops the cycle of itchy dryness in the long term. In fact, 90% of women who tried the formula saw a noticeable improvement in their skin over the course of one week. The formula is also clinically proven to help heal eczema, even on children.
In addition to passing eight different safety tests, the Curél Itch Defense moisture lotion is dermatologist-tested, pediatrician-tested, and allergist-tested. Curél Itch Defense moisture lotion was also awarded the National Eczema Association Seal of Acceptance, a program which encourages and recognizes product innovations that provide a benefit and improve the quality of life for people with eczema and sensitive skin. Featured prominently on the front of the package, the presence of the seal will empower shoppers to make informed purchase decisions to help manage their eczema and sensitive skin.
"So many patients suffer from chronic itchy skin, and Curél Itch Defense Skin Balancing Lotion is an ideal solution," explains Dr. Sapna Westley, Assistant Attending Physician in the Department of Dermatology and Kao Brands Company Consulting Dermatologist. "The novel formula contains ingredients that both boost moisturization and restore the skin barrier, making it the perfect addition to any skincare regimen. Plus, the extensive testing conducted makes me comfortable recommending the product for children as well as adults."
The fragrance free formula also includes additional anti-itch ingredients that are clinically proven to reduce irritation, redness, flare-ups and itching. Panthenol soothes redness and irritation while antioxidant-rich Olive Oil helps skin retain moisture and treats eczema; and Shea Butter reduces irritation and softens skin. The formula employs a dermatologist- and skin scientist-recognized moisture mechanism to treat symptoms associated with eczema, including protective petrolatum and humectant glycerin.
WHAT IT COSTS: $7.99
Available at: CVS, Target, Walmart.