All Posts Tagged With: "Peter Thomas Roth"
You don't need to break the bank to look your best. Get glowing skin at a price you'll love with the Freeman Feeling Beautiful Cucumber Facial Peel-Off Mask, $3.99. It's enriched with Cucumber extract, Chamomile and Vitamin A to clarify, moisturize and renew skin. Say bye-bye to built up dirt and pores by applying a generous amount to face and neck, avoiding eye area, and leave on skin for 10 minutes. Rinse well with warm water for a cleaner, hydrated new you! The Splurge: Peter Thomas Roth Cucumber Gel Masque, $45!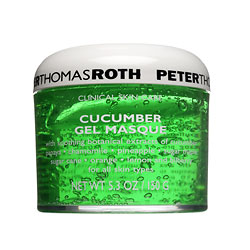 Freeman products are available at mass merchandise stores nationwide and by visiting www.freemanbeauty.com .
In Marta's Makeup Bag:
Peter Thomas Roth Eye Overhaul Duo ($58)  is a day and night eye cream. The day cream part is a light white lotion. It quenches my under eye area in an instant. The cream is not perfumed. The night cream is a yellowish looking serum and even lighter in consistency than the day eye cream. Great value for my money product, and fantastic space saving product when I travel. If you are looking for a good eye cream, you can't go wrong with this one.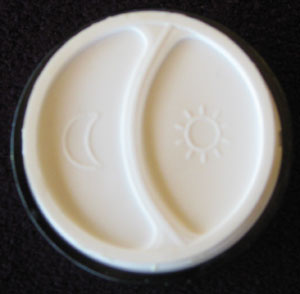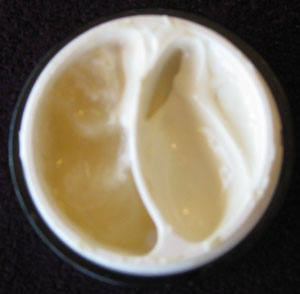 Peter Thomas Roth Eye Overhaul Duo with cover on (left) and cover off  (right)
On my recent trip to New York City I've discovered some great new skincare brands and products, and I'm very excited to share them them you.
I love cleansing my face before bed and especially in the morning. I look for cleansers that are not too greasy or too irritating. I also want my cleanser to work effectively in removing makeup and refreshing my face.
Here is Marta's top face cleansers for this week:
Fresh Soy Face Cleanser Extra Gentle For Face And Eyes: Love this cleanser. It's very gentle, smells a bit like cucumber which is quites relaxing. It leaves my skin fresh, clean, and ready for my day. More great stuff: it contains high concentration of soy proteins packed with amino acids and antioxidants. SRP: $15 for 1.7 oz. $38 for 5.1 oz. Available at www.fresh.com & Sephora.com
Peter Thomas Roth Gentle Foaming Cleanser: Cleanser and makeup remover in one, with wheat amino acids and vitamins A C & E. This cleanser is soap-free, sulfate-free, alcohol-free, and fragrance free. A very gentle cleanser for anyone, especially if you have sensitive skin or like your products green. SRP: $32. Available at www.peterthomasroth.com & Sephora.com
I can't be more excited today and bring to you an interview I did recently with the beautiful Kourtney Kardashian!
Kourtney Kardashian is the sweetest girl and chatting with her was such pleasure. Kourtney's voice was very calm and she was kind enough to share with me some of her beauty secrets, her experience on the hit series on E!: Keeping Up With The Kardashians, and future plans.
Kourtney Kardashian interviewed with me for Talking Makeup's celebrity beauty section: www.beautyinterviews.com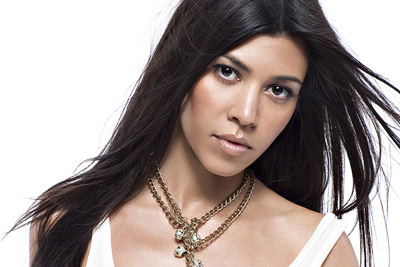 Kourtney Kardashian is best known for her appearances on the reality show Keeping Up with the Kardashians and is also the big sister to Kim Kardashian, Khloe Kardashian, and Kylie and Kendall Jenner.
Kourtney Kardashian and her sister Khloe Kardashian will be appearing in a spin-off show which will air in August 2009 on E! Networks. The spin-off will feature the sisters moving to Miami to open a second Dash store on the east coast. The show has a working title of: Kourtney and Khloe Take Miami.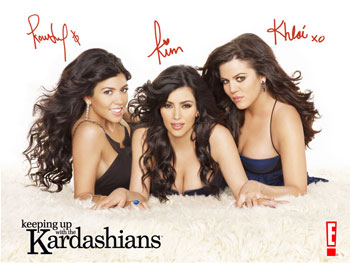 I caught up with Kourtney Kardashian on a telephone from Los angles early in the morning (and I must say, Kourtney was very punctuate!) to chat about the time she discovered the love for makeup. Why she looks up to her mother, Kris Jenner. Best part of being on the show: Keeping Up With The Kardashians. What's in Kourtney's makeup bag. What does she feel about becoming famous. And her new reality show Kourtney and Khloe in Miami.
Marta Walsh: When did you first discover makeup?
Kourtney Kardashian: Probably way too young. Kim and I went to all girls Catholic school where we had to wear uniforms so the only way we could express ourselves was wearing cute shoes or a lipstick. I remember wearing lipstick in seventh grade. Our teacher would take our lipsticks away and throw them away every day. That's why we would buy cheap lipsticks in a drugstore. It was a burgundy color lipstick. Not a cute color. We also then began wearing an eye liner.
Peter Thomas Roth's cult favorite Un-Wrinkle serum has expanded into a full range with the addition of a new product. Only this time, the anti-aging skincare benefits of Un-Wrinkle are available in makeup form with the Un-Wrinkle Pressed Powder.

Un-Wrinkle Pressed Powder by Peter Thomas Roth.
The new powder is lightweight, translucent and instantly improves the overall look of the skin while delivering anti-aging peptides and neuropeptides, which helps to reduce the appearance of fine lines and deep wrinkles. The powder blends seamlessly for a flawless, luminous finish, helping skin retain moisture while working to set makeup. The key anti-aging ingredient behind the product is SYN-AKE – a synthetic neuropeptide that mimics the wrinkle relaxing properties of snake venom from the Brazilian Viper.

Action comedy "Get Smart" staring: Steve Carell and Anne Hathaway.
The Un-Wrinkle Pressed Powder compact will appear on the big screen on June 20th in a key scene of the new action comedy "Get Smart," that sends secret agent Maxwell Smart and his lovely-but-lethal partner Agent 99 on a mission to thwart the latest plot for world domination. Agent 99 (played by Anne Hathaway) throws the compact and it smokes when it hits the ground to reveal the hidden lasers that Agent 99 and Maxwell Smart are trying to avoid so they don't set off any alarms.
Price: $35 and available from June 20th on QVC.com.
Talking Makeup is still in the Halloween spirit.  We came across Peter Thomas Roth Pumpkin Enzyme Peel and realized that pumpkin is not just for pies or Halloween and it is actually good for your skin.  Peter Thomas Roth Pumpkin Enzyme Peel is a detoxifying peel for face and neck.
How it works: pumpkin enzymes work as a deep exfoliator to easily and gently dissolve dead surface skin cells and stimulates cellular turnover.  Other ingredients include vitamin A which is an age fighting anti-oxidant to nourish protect and repair your skin.  And of course, Peter Thomas Roth Pumpkin Enzyme Peel smells like pumpkin too.  Cost: $44.  
Peter Thomas Roth skincare was founded in 1993 by Peter Thomas Roth who is the first-generation child of Hungarian parents.  Peter Thomas Roth inspiration for his line of skincare is greatly inspired by his grandparents hotel spa business in Hungary, one on Lake Balaton and one in Tourna, in the late 1800 early 1900. 
Here are few products by Peter Thomas Roth products Talking Makeup is in love with: Peter Thomas Roth Anti-Aging Cleansing Gel which is a face cleanser that speeds up cell turnover a process so crucial for wrinkle prevention.  This anti-aging face cleanser by Peter Thomas Roth works by deep pore resurfacing action.  Not suitable for sensitive skins!  Cost: $ 35 of 8 oz. 
Peter Thomas Roth Mega Rich Intensive Anti-Aging Cellular Creme for normal to very dry skin is a moisturizing creme with Firma-CELL-4(tm), glycolic acid, sea algae, and marine collagen to help reduce deep wrinkles and fine lines.   Peter Thomas Roth Mega Rich Intensive Anti-Aging Cellular Creme boosts collagen and elastin synthesis, goes beyond retinol to firm, smooths, lifts, and clarifies the skin.  Cost: $85 for 2 oz. 
Peter Thomas Roth Botanical Buffing Beads which is an ultra gentle jojoba bead scrub for the face.  This scrub by Peter Thomas Roth contains fine florabeads and botanical nutrients.  How they work? Together they help exfoliate dead surface skin cells, open clogged pores, clear out the sebum that is a main cause for blackheads and whiteheads.  Suitable for all skin types!