All Posts Tagged With: "blemish"
Got acne? Are you looking for natural skincare to treat acne? Well, REN Skincare will be launching their NEW ClearCalm3 Acne Range exclusively to Sephora in September 2010. This new natural acne treatment system includes the following steps: Cleanse with REN ClearCalm3 Anti-Blemish Clay Cleanser ($32). Control with REN ClearCalm3 Anti-Blemish Day Fluid ($40). Treat with REN ClearCalm3 Anti-Acne Treatment Mask ($45). Comfort REN ClearCalm3 Replenishing Night Serum ($30).

The VOTRE VU AU REVOIR Trouble Spot Treatment is perfect for that occasional "OMG I got a pimple" moments. It dries your pimple, cools it, & soothes! Bye bye annoying spots & acne! Remember to not shake the bottle. I use a Q Tip to apply directly on to the blemish or trouble spots. Yes, pimples happen to the best of us!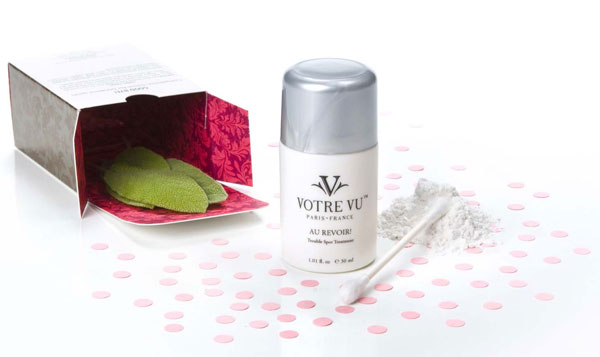 VOTRE VU AU REVOIR Trouble Spot Treatment retails for $19. Available at www.votrevu.com
FAB Launches at Sephora Stores THIS WEEK: First Aid Beauty.
There's a new kid in town…and by town we mean, Sephora. First Aid Beauty hits the shelves of over 100 Sephora stores begining of this week. Finally, there is a prestigious answer to skin's pesky problems! First Aid Beauty is a premium collection of skincare that caters specifically to sensitive skin and universal beauty challenges. The line offers both daily skincare basics and intense therapy and emergency care for common skin problems and beauty challenges.