Kairos Acne Care, a hair care line that can help treat acne? Read more.
A pioneering way to help treat and prevent acne. Throughout their twenty years of nursing, Catherine Parker and Doreen Campbell have treated countless patients who thought they had tried everything to combat their acne. From cleansing constantly to switching skincare products, many acne sufferers had given up hope until Catherine and Doreen asked a crucial question: What kind of hair products do you use? The vast majority of patients had no idea that the formulas they used on their hair could have a big impact on their skin.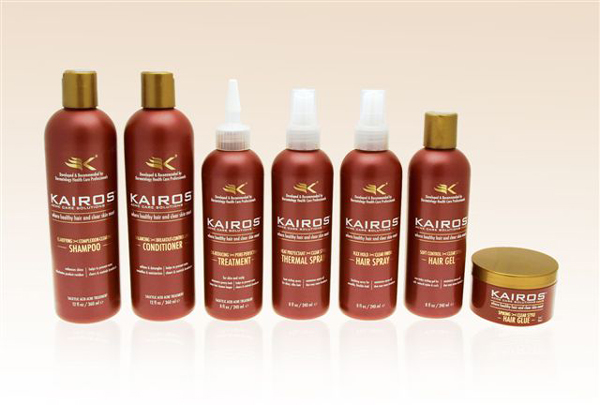 Drawing on years of experience working in an acne clinic as a Nurse Practitioner and Registered Nurse respectively, Catherine and Doreen developed the world's first hair care line designed to respond to the needs of acne sufferers: Kairos Acne Care.
Standard hair care products can exacerbate overproduction of oil, clogging pores, contributing to the creation of new acne or inflaming existing breakouts. The neck, ears, jaw line, chest, back and face are all susceptible to breakouts, no matter how careful you may be about applying product to the hair. Product runs down in the shower, gets on skin during application (particularly sprays) and is transferred to skin via hair and hands that have touched hair. Oils and acne-causing bacteria even get on pillowcases, causing a loop of contact with skin and subsequent irritation.
Kairos was developed to provide salon-quality hair care benefits without the acne-irritating side effects of typical hair care. The Kairos Acne Care Solutions Hair System employs a three-fold approach:
• eliminating acne-aggravating and pore-clogging ingredients
• treating breakouts by unclogging pores
• preventing acne by balancing the overproduction of oil
In place of acne-aggravating oils, Kairos uses natural "safe" oils that don't clog pores and actually reduce the necessary frequency of shampooing. Natural botanicals soothe and balance the scalp, leaving hair healthy, shiny and soft. Several of the products are formulated with acne-fighting Salicylic Acid, going beyond prevention to fight existing acne with proven medication to clear, heal and prevent the recurrence of blemishes.
Kairos Clear Solution Salicylic Acid Acne Treatments
CLARIFYING COMPLEXION-CLEARING SHAMPOO
BALANCING BREAKOUT-CONTROLLING CONDITIONER
Kairos Clear Styling & Clear Finish Products
SOFT CONTROL CLEAR STYLE HAIR GEL
SPIKING CLEAR STYLE HAIR GLUE
FLEX HOLD CLEAR FINISH HAIR SPRAY
HEAT PROTECTANT CLEAR STYLE THERMAL SPRAY
Available at: kairosclear.com