For 2010 Oscar night, Cameron Diaz wore an elegant metallic Oscar de la Renta gown and a luminous hair look reminiscent of the Old Hollywood glamour of Veronica Lake – created with a modern point of view by stylist Lona Vigi.
How to get Cameron Diaz' Oscars 2010 hairdo: Vigi started by spraying on a volumizer, then used the high-tech Velecta Paramount Paris TGR 4000i hairdryer to create texture and shine in a unique way. The dual-function French-made dryer is built with the ability to turn an ionics switch off to build volume, and then back on to create shine and smoothness.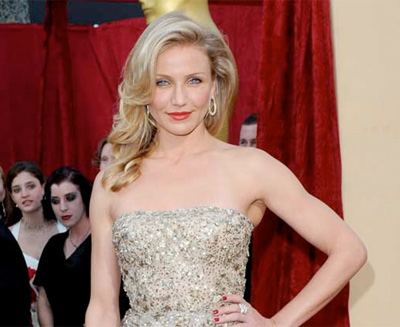 She first blow dried the hair with ionics turned off, volumizing by taking small sections of hair and using a medium round bristle brush to dry the hair back and up using high velocity and heat. Vigi then "set" the hair and gave it a boost of shine by turning on both the ionics switch and cool button to lock in curls and add a polished shine. She then freed the barrel curls and held each one in place with a pin.
Vigi waited a few minutes then brushed out the hair, created a loose, soft wave pattern then brought one side behind the ear and the other forward toward the face. She then finished with a light misting of hairspray.
"This professional hairdryer is really great," said Vigi "and being able to turn ionics off and then on again was huge for me in creating this look. I love its speed, lightness and compact size. There's nothing like it." Velecta Paramount Paris is France's oldest and most respected maker of professional hairstyling tools, with each carefully designed dryer made by hand by the same specialist, unique in the industry. The dryer has a cult following among top salon, runway and celebrity stylists.
Velecta Paramount Paris TGR 4000i. Price: $199.00 Availabe at internetbeautysupply.com