All Posts Tagged With: "Penelope Cruz"
GET THE LOOK: Penelope Cruz style and look at the 67th Golden Globe Awards was one of my favorite. I loved her super chic black Armani dress which had a mixture of stripes and lace. And I loved her hairdo and makeup.
Inspiration & The Look: Inspired by Penelope's vintage Armani dress and her fresh from vacation tan, iconic hairstylist Oribe channeled classic Hollywood glamour for Penelope's red carpet style. He created cascading, pinned back waves for a relaxed, elegant look.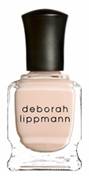 Manicurist Deborah Lippmann polished off some of Hollywood's hottest looks at the Golden Globes on Sunday. Penelope Cruz wore Night And Day to compliment her bronzed glowing skin.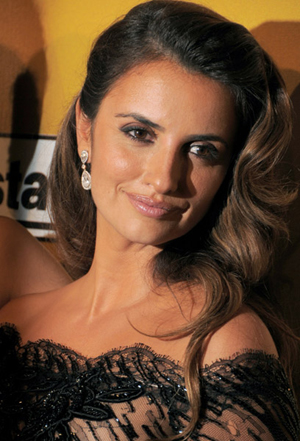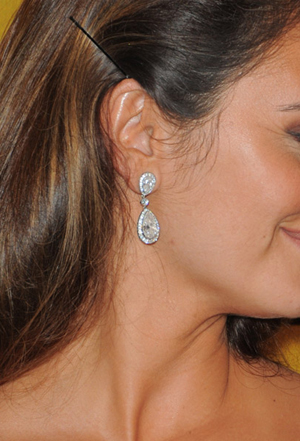 Oribe used his Imperméable to shield Penelope's hair from the day's rain and humidity.
How To Get Penelope Cruz Hairdo at the 2010 Golden Globes:
1. Start by working Gel Serum through the hair and then use hot rollers or a curling iron to set the hair. Spray Imperméable or an anti-humidity spray on the hair before using the curling iron to help protect the style and prevent frizz.
2. Brush loose curls into place
Kate Hudson and Penelope Cruz both looking fabulous in CHANEL Haute Couture at the NY Premiere of "NINE", December 15th, 2009. Which CHANEL dress are you?
Penelope CRUZ was wearing a long asymmetrical satin red dress Chanel Haute Couture. The dress was specially chosen by Karl Lagerfeld for Penelope from the Chanel Conservatoire. This unique dress was shown during the Spring/Summer Haute Couture show of Karl Lagerfeld for Chanel in1989.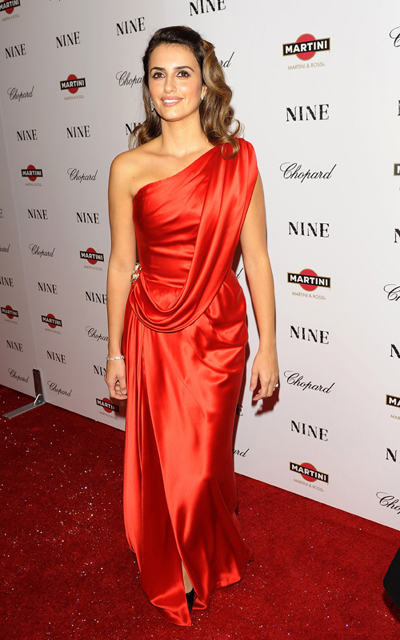 Kate Hudson was wearing an embroidered dress from the Fall/Winter 2009 Haute Couture collection.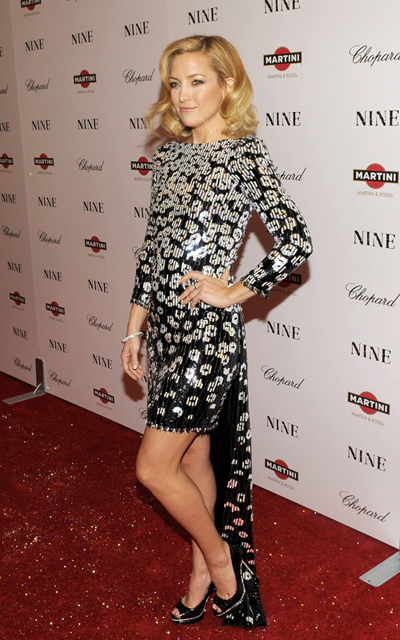 It was Hayden Panettiere yesterday getting bangs, today is my favorite girl, Penelope Cruz. Do you love?
Stars of 'Nine' Nicole Kidman, Marion Cotillard, Penelope Cruz, and  Kate Hudson grace the Vogue Magazine cover November 2009. This Vogue cover was photographed by Annie Leibovitz. The movie "Nine" directed by Rob Marshall is about a famous film director Guido Contini who struggles to find harmony in his professional and personal lives, as he engages in dramatic relationships with his wife, his mistress, his muse, his agent, and his mother. Release Date:25 December 2009 (USA).
Which "Nine" star on the cover of Vogue Magazine November 2009 is your favorite or is the perfect 10?:)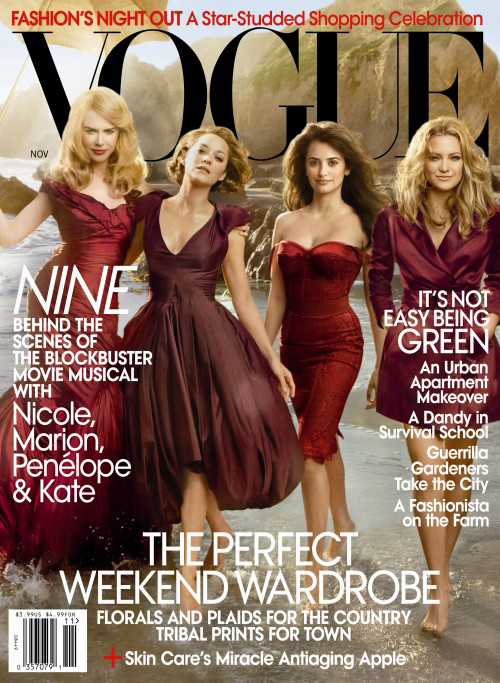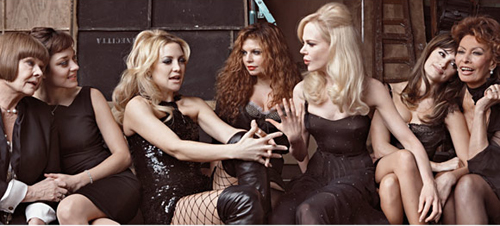 The Women of Nine [From Left]: Judi Dench, Marion Cotillard, Kate Hudson, Fergie, Nicole Kidman, Penélope Cruz, and Sophia Loren, at London's Shepperton Studios.
How hot is Monica Cruz? No, that's not Penelope Cruz, it's Monica, her sister. Don't they look alike? It took me few minutes to realize it wasn't Penelope. Monica is the ultimate brunette beauty. She almost makes me want to dye my hair brown again! I also love her very black smoky eye, the classic.  Any Thoughts guys?
To get Monica Cruz' black smoky eye try Magic Kajal Eye Pencil by Givenchy, $21.50. This eye pencil allows you to apply a precise line or a create a smudge or smoky eye effect.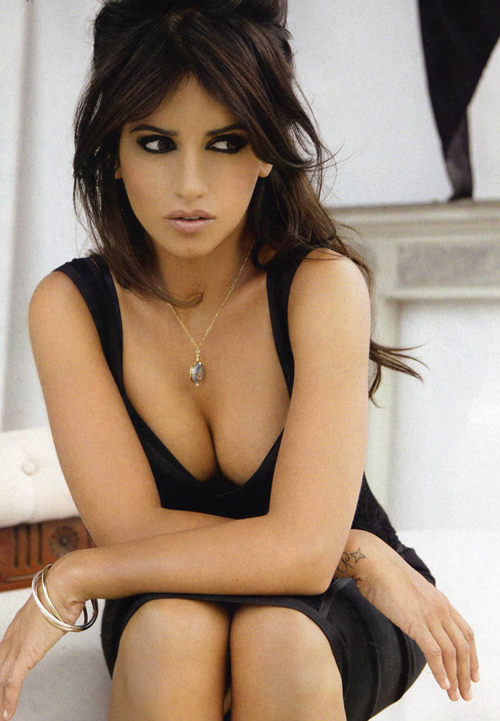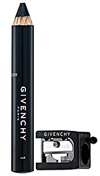 And, what do you think about Monica smoking in photo below? Maybe it's a cultural thing. It was shot for Spanish Elle, maybe smoking it's not as big a deal as in the U.S.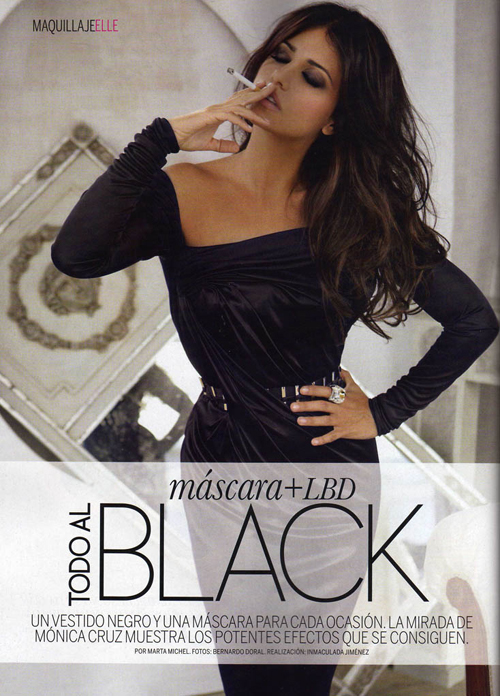 Images via: www.hollywoodtuna.com
I find Penelope Cruz as one of the most beautiful Hollywood actresses. I love her effortless natural beauty, something I aspire to! 
Penelope Cruz was spotted at the Broken Embraces film promotion in Berlin looking her usual beautiful self. I Love Penelope's sleek brown hair, smoky eye, and priceless smile!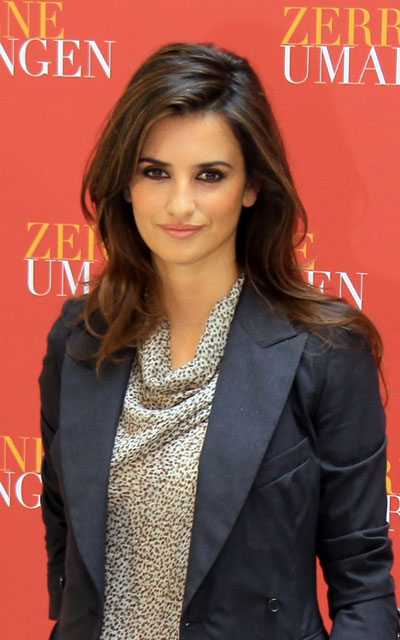 Image via www.celebrity-gossip.net
81 Academy Awards red carpet looks: For some reason Penelope Cruz reminds me of Audrey Hepburn tonight at the 2009 Oscars. Maybe it's the short bangs, the cute smile, and the necklace.  Penelope Cruz is a true beauty and talent, and was destined to win the Oscars tonight for her supporting role in Vicky Christian Barcelona.
Tell us what you think! Is Penelope Cruz hot or not?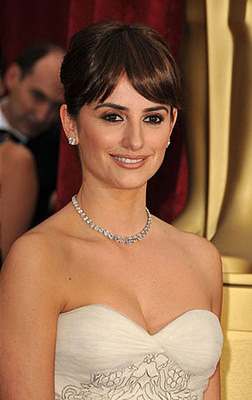 Penelope Cruz was spotted at the BAFTA Awards in London last night (The British Academy of Film and Television Arts) with a new hairstyle: Bangs! Do you like?
The beautiful Penelope Cruz is on the cover of W Magazine August 2008 Edition.
Penelope is one of my all time favorite actresses. Not only I love her acting style but I also love her looks. Penelope's beauty inspires me. I identify with Penelope, if that make sense, maybe because like myself, she is an exotic brunette with a cute accent. On the cover Penelope appears as a 60's glamour girl. Heavy black eye liner and light pinkish coral lips. I'm wondering if the makeup is by L'Oreal…umm…is it L'Oreal Telescopic Precision Liquid Eyeliner in Black?