All Posts Tagged With: "Jouer"
Naomi Watts wore Jouer to the premiere of "St. Vincent" last night, Monday, October 6th in New York. Celebrity Makeup Artis Pati Dubroff created a gorgeous "Champagne and Berries" look, incorporating two NEW Jouer shades for fall (Crème Mousse Eyeshadows in Starlight and Dusk).
Inspiration:
"Naomi wore a pink champagne Jason Wu dress, very soft tone with a gorgeous shimmer. The makeup complimented her gown with shades of champagne and berries."
Anne Hathaway wore Jouer Mineral Powder Blush in Peach Bouquet at last night's 2013 SAG Awards.  " The definition of the cheeks and cheekbones are synergistically a part of the complexion, and I always regard them as part of my base. For this look I wanted to create a tactile effect and to bring a beautiful apricot hue to the apples of the cheeks to offset the lip colour. I used Jouer Mineral powder blush in Peach Bouquet." – Makeup Artist, Kate Lee
Jouer Mineral Powder Blush in Peach Bouquet is available at Nordstrom.com for $24.
Travel & jet-setting are some of my favorite things in life. I love going places and exploring the world. I love getting out of a routine into the fun adventures of the unknown. But I only like to travel when I'm feeling fresh and pretty. These are the skincare and makeup products that are my best travel company. My routine? I get to the airport showered, well dressed and with the perfect makeup. The challenge, however, is to stay like this for hours during a tiring flight with a flight full of dry air.
How do I stay fresh and pretty when I travel? Well, Simple Cleansing Facial Wipes are a MUST for a fresh travel. I actually remove all my makeup before landing and re-apply my Simple Skincare Vital Vitamin Day Cream with SPF 15 and Simple Skincare Soothing Eye Balm. Then I use matte moisture tint SPF 15 & oil free because I hate looking shiny and oily anywhere, including on a flight. Then Jouer Cosmetic brightener in neutral is like concealer – it's easy to use and fragrance free, so it conceals redness and skin imperfections on the go. Plus, it's so small it fits perfectly in my makeup or travel bag.
CHANEL Celebrity Makeup Artist Rachel Goodwin worked with Hollywood's newest starlet, Amanda Crew, at the Los Angeles premiere of Charlie St. Cloud on Tuesday, July 20th, 2010. Rachel's shares with Talking Makeup her tips on how to get Amanda's fresh, modern makeup look.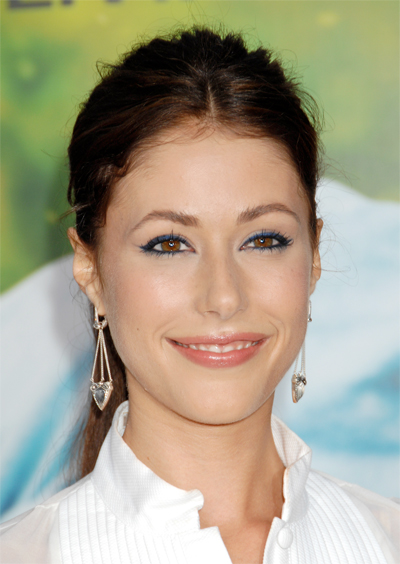 How to: Makeup Tutorial
"Amanda's make up for the premiere was really fresh and modern with cool sleek lines. For a fun jolt of color, I lined her eyes in navy using a shadow from CHANEL Quadra Eyeshadow in Blue Celestes, placed on top of a sapphire Stila Kajal eyeliner.
Talking Makeup is proud to be a member of Daily Makeover's Beauty Bloggerati team!
Here is a sneak peek to our other Bloggerati memebers makeup & beauty reviews:
Expert Summer Hair Advice by Tammy at A Mom In Red High Heels
Leonor Greyl Huile de Magnolia Face and Body Oil by Julia at All About The Pretty
Dania Ramirez Will Be The NEW Face of Cover Girl by Amber at Beauty Blogging Junkie
Skinny Makeup: Darac Feature Focus by Elissa Carson at Beyond Beauty Basics
Hair Share — Tips for Short Bobs by Sarah James at Hair Thursday
Jennifer Lopez is gracing Harper's Bazaar Japan July 2009 cover with a makeup look created by Celebrity Makeup Artist Troy Jensen.
Troy Jensen is also known to be the makeup artist for Kim Kardashian, Khloe Kardashian, and Kourtney Kardashian.
"I created a retro 60s look with a modern twist on the beautiful Jennifer Lopez for the July cover of Harper's Bazaar using Jouer and Shu Uemura."-Troy Jensen.

To read the complete how to get Jennifer Lopez Harper's Bazaar Japan Cover July 2009 makeup look visit Troy's official website Troy Jensen!
The red lip trend is taking over Hollywood this season. Think Anne Hathaway, Katy Perry, and Emmy Rossum.
Here is how to achieve that the red lip look at home by Christina Zilber from Jouer:
Unfortunately, it seems as though many women either don't feel comfortable wearing this trend, or wear red lips the wrong way. Christina Zilber from Jouer advises women on how to take the look from the runway or wear it the real way for every day.
Red Carpet Red: For a true dramatic red carpet look, Zilber created the Jouer Simone hydrating lipstick – a rich true red that should be worn for that glamorous holiday party or big night out.