Hand Saver: With flu season in full force, we're all aware of the importance of washing our hands to ensure they're free from bacteria. Unfortunately, this increase in our daily wash routine is leading to a decrease in the softness of our hands. With the average woman washing her hands 10.8 times each day, there's a need to re-hydrate our dry, cracked skin. 
Luckily, Curél has you covered this winter with their Targeted Therapy Fast-Absorbing Hand & Cuticle Cream. Formulated with Curél's unique cationic formula, the cream is specially designed to deliver moisture where skin needs it most. Dry spots of skin attract the formula to create a moisture lock, which holds protective emollients on skin longer and helps prevent the hydrating ingredients from rinsing away with hand washing.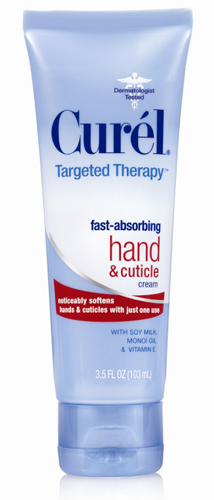 Curél Targeted TherapyTM Fast-Absorbing Hand & Cuticle Cream is also formulated with powerful antioxidants, including Soymilk, known to prevent irritation and Vitamin E to reduce dryness and flaking and promote healthy cell reproduction. Monoi Oil, a centuries-old beauty secret, naturally softens and smoothes skin and cuticles.
Simply apply Curél Targeted Therapy Fast-Absorbing Hand & Cuticle Cream ($4.99) to dry hands and rough cuticles as needed. With just one application, cuticles become twice as soft and hands stay smooth even through several trips to the sink.