All Posts Tagged With: "Vanessa Paradis"
The CHANEL Fall/Winter 2010-2011 Ready-to-Wear Collection debuted at the Grand Palais in Paris on March 9th, 2010. Here are some photos from the CHANEL fashion show front row and VIP.
Karl Lagerfeld and Venessa Paradis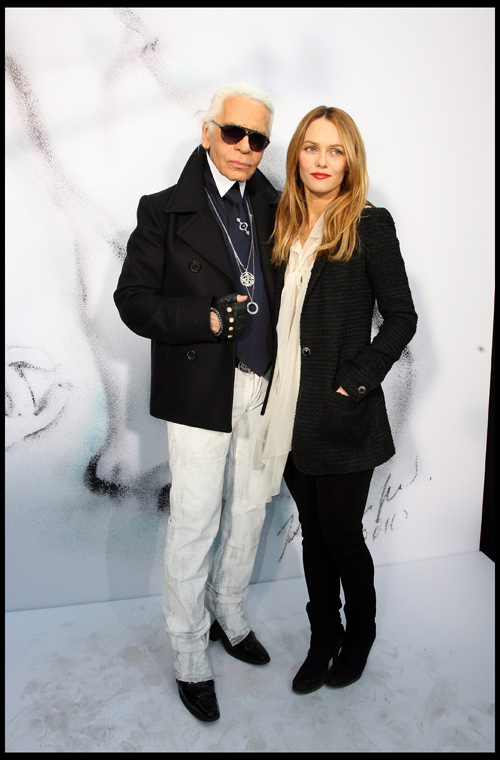 Vanessa Paradis and Kate Bosworth wearing CHANEL Rouge Coco Hydrating Crème Lip Colour at a dinner in honor of Vanessa Paradis, celebrating the launch of CHANEL Rouge Coco. Tuesday, February 9, 2010 at The Mark Hotel, New York, NY.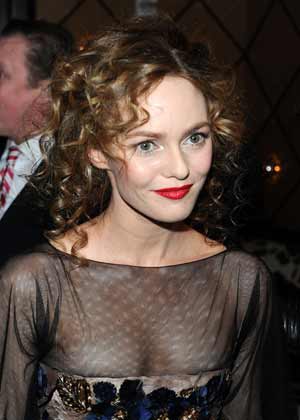 CHANEL celebrity makeup artist Fulvia Farolfi worked with Vanessa Paradis, CHANEL beauty muse and the face of CHANEL Rouge Coco, for the event. Fulvia lined her lips with CHANEL Lip Definer in Rouge, and applied CHANEL Rouge Coco in Gabrielle, a gorgeous true red shade. Fulvia prepped Vanessa's skin with CHANEL Ultra Correction Lift Day Cream. For her complexion, she used CHANEL Long Lasting Concealer in Beige Clair, and CHANEL Pro Lumiere Foundation in Nude. Her cheeks were sculpted with CHANEL Powder Blush in Fandango. On Vanessa's eyes, Fulvia used CHANEL Intense Eye Pencil in Noir along the top lashes, and on the lids she combined the shades from CHANEL Quadra Eye Shadow in Mystic Eyes. To make her eyes pop, she applied two coats of CHANEL Inimitable Mascara.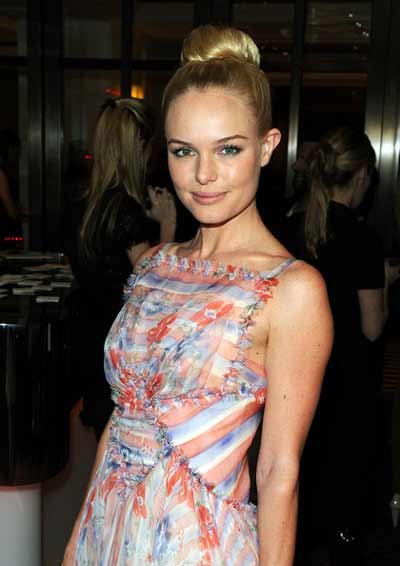 The CHANEL Metiers d'Art Collection 2009-2010 Paris-Shanghai
For some years, CHANEL has been ensuring the destinies and preservation of the skills of the Maisons d'Art: metal worker Desrues, feather maker Lemarié, embroiderer Lesage, shoemaker Massaro, milliner Michel, goldsmith Goossens and flower maker Guillet. Since 2002, Karl Lagerfeld has dedicated an annual collection to them, presented in exclusivity in a city that is part of, or is destined to leave its mark on, the history of the brand. In Shanghai on December 3rd, he unveiled his 8th edition of this collection, called "Paris Shanghai". Shanghai is a city in constant evolution, a cosmopolitan theater to an extraordinary cultural boom, and where CHANEL has recently inaugurated its third point of sale in continental China over an impressive 480m2.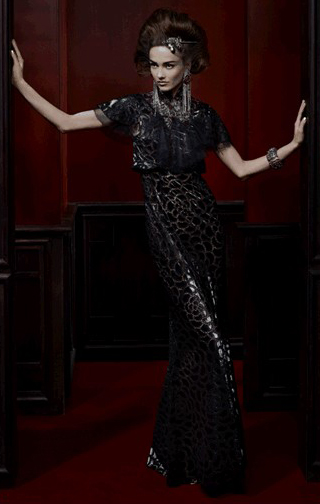 As a prelude to the show, the film "PARIS SHANGHAI, A FANTASY", written and directed by Karl Lagerfeld, tells the story of Coco Chanel's imagined voyage to China.
Vanessa Paradis Named the New Face of CHANEL Lipstick: In 1992, Vanessa Paradis whistled and displayed her skills as an acrobat, lending her youthful grace and already exceptional personality to the Coco fragrance. In 2003, in front of Karl Lagerfeld's camera, Vanessa became the muse of the Cambom handbags. In 2010, Vanessa's modern elegance, boldness of character and power of emotion will unite with a range of lipsticks with an evocative name: Rouge COCO de CHANEL. The special relationship thus continues, with consistency and modernity.