All Posts Tagged With: "IMAN"
Iman and Vanessa Williams hit the red carpet at the launch party of their stylist, Sam Fine, for his DVD "The Basics of Beauty." Plus, Vanessa reacts to being chosen as one of TV One's hottest bachelorettes.
Watch video (just click image below) by Access Hollywood of Sam Fine at the launch of his DVD, Basics of Beauty on June 18th 2009 at The Warren-Tricomi Salon at The Plaza!
Talking Makeup is glad to share with you some images from last night's Sam Fine Basics of Beauty DVD event hosted by IMAN at the Warren-Tricomi Salon at The Plaza (June 18th 2009)!

From Left: Vanessa Williams, Sam Fine, Lisa Iran

From Left: IMAN, Sam Fine, Deborah Cox, Vanessa Williams
Everyone was sipping on NUVO sparkling Liqueur cocktails like the Iman Tonic, the Sam Fine Sparkling Sunset, and the Fine Basic Beauty (vodka on the rocks). Attendees included Vanessa Williams, Deborah Cox, Taraji P. Henson, RuPaul, and Wendy Williams!

Sam Fine and Taraji P. Henson
In May 2008, I had the honor to interview the legendary IMAN for BeautyInterviews.com. I would like to share my interview with IMAN with you.
Here is a bit of an introduction: IMAN, is one of the most beautiful models of all time. IMAN is not just known for her exceptional beauty, she is also the founder of IMAN Cosmetics, and Global Chic a fashion accessories line. In this interview IMAN talks about why she decided to create IMAN Cosmetics and Global Chic, her involvement in the I Am African campaign and Keep A Child Alive organization, the photographers she loved working the most, and her secret for looking so amazing at age 50.
Marta Walsh: How was the concept for Iman Cosmetics born?
IMAN: I created IMAN Cosmetics in 1994 because I was frustrated by the lack of products for women with skin of color. It became an instant success with celebrities, beauty editors, and everyday women!
Marta Walsh: Which product from Iman Cosmetics are you most proud of?
IMAN: I have to say my IMAN Second to None foundations in all categories from cream to powder, stick, luminous and liquid. To have created an iconic must-have product that delivers is truly inspiring.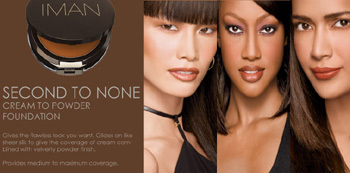 Marta Walsh: Your newest collection Global Chic by IMAN also includes: handbags, fashion accessories, and jewelry. What inspired you to develop this collection?
IMAN: Global Chic is inspired by my journeys around the globe – from the saturated landscapes and bold sophisticated colors of Africa, India, and Bali, to the glamour of the Hollywood Hills, and the fashionably chic streets of London, Paris, Milan, and New York – as well as my personal collection and sentimental items from my husband. I will dress you, jewel you, and accessorize you from head to toe – giving you an extensive line of fashionable, and affordable pieces that can be instantly incorporated into your life – with zero effort!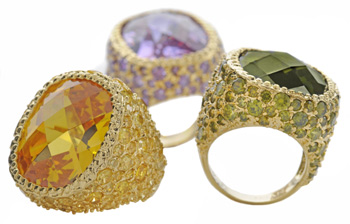 I recently interviewed IMAN for Beauty Interviews about her new Global Chic Collection which is sold exclusively on HSN. I couldn't resist and ask her advice to young girls who are aspiring models.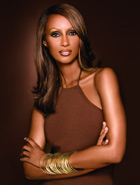 And this is IMAN's advice: "First finish school and then have a plan and strategy if modeling doesn't work out; not all beautiful girls can become models".