In May 2008, I had the honor to interview the legendary IMAN for BeautyInterviews.com. I would like to share my interview with IMAN with you.
Here is a bit of an introduction: IMAN, is one of the most beautiful models of all time. IMAN is not just known for her exceptional beauty, she is also the founder of IMAN Cosmetics, and Global Chic a fashion accessories line. In this interview IMAN talks about why she decided to create IMAN Cosmetics and Global Chic, her involvement in the I Am African campaign and Keep A Child Alive organization, the photographers she loved working the most, and her secret for looking so amazing at age 50.
Marta Walsh: How was the concept for Iman Cosmetics born?
IMAN: I created IMAN Cosmetics in 1994 because I was frustrated by the lack of products for women with skin of color. It became an instant success with celebrities, beauty editors, and everyday women!
Marta Walsh: Which product from Iman Cosmetics are you most proud of?
IMAN: I have to say my IMAN Second to None foundations in all categories from cream to powder, stick, luminous and liquid. To have created an iconic must-have product that delivers is truly inspiring.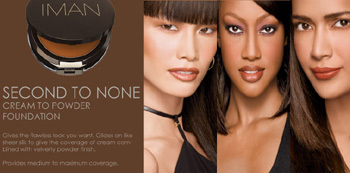 Marta Walsh: Your newest collection Global Chic by IMAN also includes: handbags, fashion accessories, and jewelry. What inspired you to develop this collection?
IMAN: Global Chic is inspired by my journeys around the globe – from the saturated landscapes and bold sophisticated colors of Africa, India, and Bali, to the glamour of the Hollywood Hills, and the fashionably chic streets of London, Paris, Milan, and New York – as well as my personal collection and sentimental items from my husband. I will dress you, jewel you, and accessorize you from head to toe – giving you an extensive line of fashionable, and affordable pieces that can be instantly incorporated into your life – with zero effort!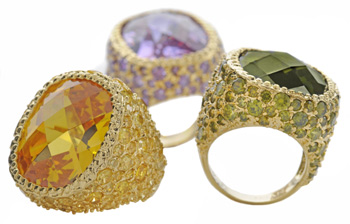 Marta Walsh: What are some of your favorite pieces from the Global Chic collection?
IMAN: Whether I am off to a business meeting, the PTA, or a romantic dinner out, I rely on stunning jewelry and accessories to keep me looking fresh. With that said, my favorite pieces are the Global Chic Signature Tote which comes in a beautiful black patent or faux-python and is perfect for day-to-day use or travelling, and for the evening definitely the Knock Out Ring in colors. These glamorous cocktail rings are available in three colors and will instantly update a little black dress!
Marta Walsh: How would you describe the new Global Chic makeup line?
IMAN: It is hip, glamorous beauty essentials on-the-go for all women regardless of their skin tone. It is truly for global glamour girls everywhere.
Marta Walsh: What type of woman is Global Chic?
IMAN: Global Chic is for all women! As a successful business woman, model, wife, and mother, versatility in my wardrobe and accessories is crucial.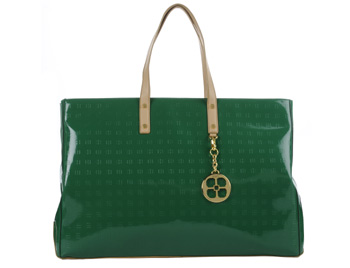 Whether you are dropping the children at school, or attending a cocktail party, Global Chic is meant to add those "extras" to highlight a look – from jeans and a tee to an evening dress.
Marta Walsh: What is your secret for looking so fabulous at 50?
IMAN: Skincare, skincare, and skincare.
The skin that you take care of in your twenties is the one you will inherit in your fifties and beyond.
Marta Walsh: What advice can you give to young girls who are aspiring models?
IMAN: First finish school and then have a plan and strategy if modeling doesn't work out; not all beautiful girls can become models.
Marta Walsh: I Am African campaign brought together some amazing people, can you tell us about how this campaign was conceived and its message?
IMAN: As the Global Ambassador for Keep a Child Alive (www.keepachildalive.org) an organization that provides ARV drugs for children and their families who are affected with AIDS in Africa I wanted to create a thought provoking campaign that makes you look and think about the human condition and that also reminds the public that the human race does originate from Africa hence we are all Africans. I am forever grateful to all the celebrities that came together to create my vision – from Gwyneth Paltrow to Sarah Jessica Parker, David Bowie, Richard Gere, Alicia Keys, Heidi Klum and Seal among others and the creative team of famed lensman Michael Thompson, hairstylist Serge Normant and makeup artist Dick Page to the impeccable art direction of Trey Laird.
Marta Walsh: What compelled you to get in involved with the Keep A Child Alive organization?
IMAN: I am an African who wanted to help my continent and to ease its daily suffering, additionally as a mother I was moved by the enormity of the orphan situation in Africa. AIDS is an incurable disease but it is no longer a death sentence in the West because of the ARV drugs and I wanted Africans to have the same chance of survival as the people in the West.
Marta Walsh: You have worked with many photographers during your career. Who do you feel captured you the best?
IMAN: It is difficult to say as there are so many sides of me. I loved working with Michael Thompson, Avedon, Penn, Steven Meisel, Annie Leibovitz, and Ruven Afanador – the list goes on and on.
Marta Walsh: What's next for Iman?
IMAN: At the moment, I am working on my first fragrance in addition to appearing on HSN (May 18th and July 12th ) with new pieces in my Global Chic line, as well as the "official" launch of Global Chic Beauty and Lifestyle brand!
It was an amazing honour to interview the beautiful Iman. To discover more about IMAN cosmetics visit their website at: www.imancosmetics.com
To shop for Global Chic on the Home Shopping Network visit www.hsn.com