I recently interviewed IMAN for Beauty Interviews about her new Global Chic Collection which is sold exclusively on HSN. I couldn't resist and ask her advice to young girls who are aspiring models.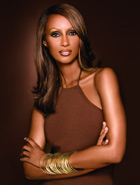 And this is IMAN's advice: "First finish school and then have a plan and strategy if modeling doesn't work out; not all beautiful girls can become models".
IMAN, one of the most beautiful supermodels of all time, is the Global Ambassador for Keep a Child Alive (www.keepachildalive.org) an organization that provides ARV drugs for children and their families who are affected with AIDS in Africa.
IMAN also created the I Am African Campaign that braught together celebrities such as: Gwyneth Paltrow, Sarah Jessica Parker, David Bowie, Richard Gere, Alicia Keys, Heidi Klum and Seal. The I Am African Campgin mission was to make us look and think about the human condition and to remind us the human race does originate from Africa hence we are all Africans.
IMAN is also the founder of IMAN Cosemetics.