Pamella Roland Spring 2012 NYC Fashion Week. Date: Monday, September 12, 2011. Makeup by Matin Maulawizada, Global Artistry Director and Brand Ambassador. All products from Laura Mercier Makeup Collection.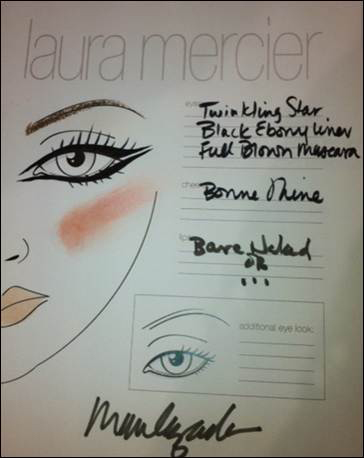 Pamella Roland Spring 2012  makeup face chart
INSPIRATION: The makeup look is inspired by the abstract compositions of American Abstract Expressionist painters from the 1940s. It was designed to complement Pamella Roland's collection which is infused with special fabrics and bold treatments that are evocative of the iconic paintings of the era.
FACE
"Silky and Shimmering"
· Matin created a custom look by blending Laura Mercier Second Skin Cheek Colour in Rose Petal and Laura Mercier Sequin Eye Colour in Twinkling Star.
EYES
"Modern and Glamorous"
Matin created a captivating eye by lining it with Laura Mercier Tightline Cake Eye Liner in Black Ebony.
Matin gave the eye a soft-sparkle effect with Laura Mercier Sequin Eye Colour in Twinkling Star.
The show-stopping lashes were created using Laura Mercier Full Blown Mascara.
LIPS
"High-Shine"
Matin gave the lips a rich shine with NEW! Laura Mercier Lip Glacé in Bare Naked.