All Posts Tagged With: "Benefit"
The Wall Group is pleased to announce that celebrity makeup artist Fiona Stiles worked with Rose Byrne at the Zimmerman 2011 Resort Collection dinner on Thursday, July 14th.  TM & Marta Walsh has the sneak on how Fiona created this summery, fresh makeup look.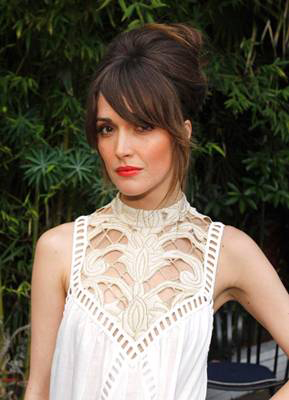 Get the Look : Rose Byrne
INSPIRATION:
"It was a warm summer night in Hollywood, and Rose was wearing a very cool, easy glamour dress from Zimmerman, so we went with an non-fussy summer look. It was an outdoor event and it seemed right to go with a fun lip color. Not too much on the eye, a sun kissed cheek and a bright, happy coral lip."
How to get Rose Byrne's makeup look:
Terri Seymour at the Elton John Annual Oscar Party 2010: Makeup by Celebrity Makeup Artist Melissa Walsh.
"This is how I did Terri Seymour's makeup this afternoon for Elton John's annual Oscar party for his his Aids Foundation – if you aren't going to the actual Academy Awards ceremony this is the place to be!"-Melissa Walsh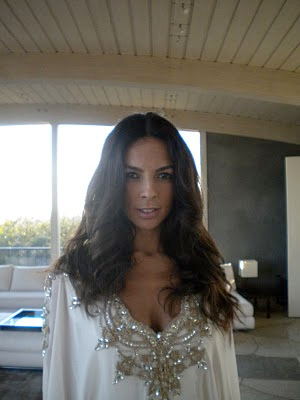 Base: Smooth Hourglass Cosmetics Fluid Veil evenly over the whole face blending out from the middle and downwards.
Under eyes: Dot a little Smashbox Photo-Op Eye Brightener under the eyes to brighten.
Few weeks ago I was given an incredible opportunity to interview actress and FAME star Kay Panabaker. It was such pleasure chatting with Kay over the phone. She came across as extremely intelligent, witty, and very dedicated young woman. She completed her BA in History from UCLA before she turned 18! And, she is beautiful. Watch out Hollywood!
Kay gave me the biggest compliment: "Thank you for an intelligent interview and questions. I'm not used to those. I'm used to 'What's your character like' and 'Whose the most famous person you have in your cell phone'. I appreciate this interview, it was great."-Kay Panabaker.
Thank you Kay!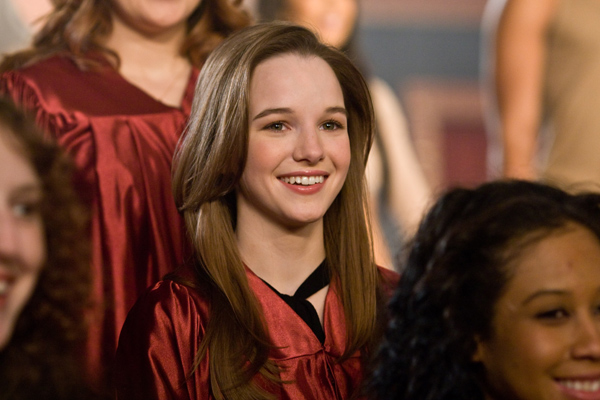 Kay Panabaker plays the role of "Jenny" in the upcoming film FAME, a movie based upon the 1980 film which follows NYC talent attending the New York City High School for the Performing Arts, (Known today as Fiorello H. Laguardia H.S.) The Movie "FAME" is in theatres September 25th, 2009 (USA).
I caught up with Kay one afternoon this summer to chat about her love for acting. Her charcter "Jenny" in the upcoming film "FAME". How she finds the balance between life and an acting career. Kay even reveald to me what's in her makeup bag and future plans.
Marta Walsh: Why have you decided on a career in acting? How did it all began for Kay?
Kay Panabaker: My sister (Danielle Panabaker) and I kind of fell into acting. She and I used to do the same activities, like dancing. We would then take the same dance classes, and then the same print work and commercials. That was back in Georgia. When we moved to Chicago we started to do more theatre. One of our agents then recommended that we should move to LA. My mom was very skeptical. She told us it was a crazy idea and that we will never make it. So in a way I fell into acting, but I've been loving it pretty much from the beginning. When I was 10 I hardly even watched TV, so I don't how I discovered the love for acting and movies.
MW: How do you find the right balance between school and enjoying life as a young woman and at same time working in Hollywood? What advice can you give to young aspiring actors and actresses?
KP: School and education are very important to me and I believe it is possible to do both. Just because you want to be an actress doesn't mean you can't go to school. I started community college when I was 13. I used to go to work during the day and go to school at night. I would do my homework in whatever spare time I had. Sure there is a sacrifice. I gave a bit on a social life but I made it work, and I'm so thankful that I did. I now have a degree I can fall into. I have more options. I got my degree so young I can even still go back to school if I decide do. There is nothing I can't do!
I'm so excited to share with you my interview with "Eastwick" star Jaime Ray Newman who plays the character of Kat Gardener. Eastwick is an American television drama series, that is scheduled to premiere on ABC on Wednesday, September 23, 2009 at 10:00 PM ET. Eastwick is a television adaption of the 1987 feature The Witches of Eastwick. Show's cast also includes Lindsay Price, and Rebecca Romijn.
Newman's previous roles include: Kristina Carter Cassadine on the soap opera, General Hospital. And, a part in the Steven Spielberg's Catch Me If You Can, with a scene opposite Leonardo DiCaprio.

Jaime Ray Newman
In this interview Jaime Ray Newman talks to Marta Walsh about her first breaks as an actress. Her role as Kat Rougemont on the new ABC show "Eastwick". Beauty secrets, and future plans.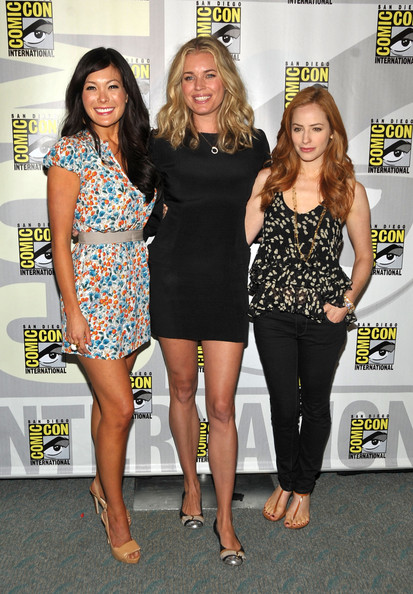 "Eastwick" stars from left: Lindsay Price, Rebecca Romijn, and Jaime Ray Newman
Marta Walsh: How did you decide on a career in acting, and what were some of your first breaks as an actress?
Jaime Ray Newman: I did my first professional play when I was 12. A local theater came to my middle school to audition girls for a new Israel Horowitz play, and I got the gig. My parents first reaction was "There are two people in this household with careers and you're not one of them". But after much begging, they acquiesced, and away I went. My first real break was playing Kristina Cassadine on "General Hospital". I was fresh out of college and thrilled to be working.
MW: What attracted you to Kat Rougemont's character on the new ABC show "Eastwick"?
JRN: I love playing Kat. She's quite unlike me, actually, so I really get to dig and create a character. She's undertaken so much responsibility (5 children, a full time job, a husband who may as well be one of her kids) that she hasn't had a second for herself since she was 18. She's struggling to find her voice again, and that is always fascinating to me. Playing someone in deep conflict is always the most interesting.
Watch "Eastwick" trailer below, the show looks so cute! It's like "Sex and The City" meets "Charmed".
The new Trrrob by Benefit Cosmetics is described as a "turned on" face powder.  In simple words, Trrrob by Benefit is a sheer pink powder that will give you that healthy natural flush. 
To help kick of the launch of Thrrrob, Benefit's hottest new product, Benefit teamed up with Hanky Panky, Godiva, and X Rated Fusion Liquor to present events at 5 Bloomingdale's locations: Chicago, New York City (59th street & SOHO), Los Angeles, and San Francisco. When: January 31st-Febuary 2nd.  Time: 11:00AM to 7:00Pm.  See Hanky Panky specially designed thong, sip on specialty cocktails and enjoy decadent chocolates.  Go check it out!
Do you ever wonder who is behind your favorite makeup brand, like Benefit Cosmetics?  Now BeautyInterview.com is giving you a chance to learn about the creators of this amazing brand, Jean and Jane Ford. In a recent interview for BeautyInterviews.com Jean and Jane Ford talked to Marta Walsh about their early years in New York City as aspiring models, how they flipped a coin between cosmetics and casseroles, what goes behind the creation of Benefit's most popular products, and even some of their beauty secrets.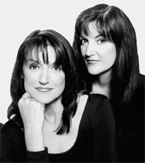 How was the concept for Benefit born?
Jean: My sister and I are very tall…we're both 6'1" – so when we graduated from college at Indiana University in 1970, we moved to New York City together in hopes of becoming successful models.
Jane: We really had no idea what we wanted to do after we graduated college. I had studied marketing & finance, Jean had studied art education. New York City was an exciting place with lots of opportunity. The city lured us in.
Jean: Our life was very simple then. We lived in a tiny narrow apartment together, if you put your arms straight out from you sides, you could touch both walls. We lived in a very artsy neighborhood – everyone around us was a struggling artist of some sort.
Jane: Everyday we would go out on audition after audition and get turned away. We booked a few small jobs here and there, but we barely making enough money to make ends meet so we both had day jobs, we cleaned houses, we worked as sales girls… we did a little bit of everything.
Jean: Our big break came 2 years later, when we booked a series of national commercials for Calgon Bath Beads. We were so excited. It was a dream come true.
Jane: We packed our bags, piled up all we owned into an old station wagon, and drove out west, to California. We settled in San Francisco, and used the money that we earned from those commercials to start our own business.
Jean: We had worked for so many people over the years, doing all kinds of odd jobs. It was our goal to open our own business. The two things we knew best were doing makeup, from all of those years of doing our own makeup as models (before the era of supermodels, gals did their own) and we baked a mean casserole… growing up in the Midwest, we were constantly in the kitchen cooking with mom.
Jane: We flipped a coin to decide. That's how we ended up here. It was between casseroles and cosmetics. In 1976, we opened up a tiny makeup shop called The Face Place, in the mission district of San Francisco. The business took off! In 1990, we changed the name to Benefit.
Jean: The name Benefit, was created as a result of a vacation to Italy. Jane and I had 24 hours to change the name of our boutiques from The Face Place into a "brand" name…one that people would identify with.
Jane: We were asked quickly to have this done if we wanted a two page placement spread in a very high end catalog.
Jean: Jane was working at one boutique, I in another…Jane had just returned from Italy and commented "bene, bene, bene" "I wish something "fit" with bene…thus Benefit was born.
Where do you get the inspiration for your products?
Jane: The single most important thing when creating a new product is to start with "a need". This new product must fill a need. The challenge is coming up with something that is completely original. For most products, our inspiration comes from our day-to-day life. Any situation or conversation can give you an idea for a new product or package. We speak with our customers. We find out what they want.
Jean: Over the years, Jane and I have collected vintage pieces for inspiration… we have vintage mannequins, compacts, posters, handbags, & lots of old magazines. There is something very romantic about the past. For our packaging, we use both modern & old-fashion images & styles to create fun products that women will want to carry in their bags or display on their vanity.
What is new this year at Benefit?
Jean: We have a new precision highlighter for eyes & face called Miss Popularity that comes out this winter. It's fabulous. It comes with a little lesson that teaches you tricks for brightening the eyes, perking up your smile, slimifying your nose – it's this little bottle that does it all. I've been wearing it everyday.
Jane: It took us 2 years to develop the formula and bottle for Miss Popularity. It's housed in a custom designed barrel that dispenses just the right amount of finely spun white shimmer powder onto the brush so you can control the highlight and place it just where you need it.
To read full interview with Jean and Jane Ford, founders of Benefit Cosmetics click here!
Check out Benefit Cosmetics "Gimme Gimme More" Party Makeup Must-Haves!  Which look would you like to go for this season, naughty or nice? The following products from Benefit will help you to achieve your desired look: for a naughty look try Benefit 10 Palette, this slim portable palette, gives you a whole new meaning to "Perfect 10." The palette contains seducible shades for eyes, lips, and cheeks.
The powder duo bronzes and highlights in one sexy sweep.  The complimenting lip and eye shades complete this coveted collection of sultry.  Benefit likes to call it "sexy to the max," $28.  Complete your naughty look with Benefit BadGal Blue mascara, $19.  Going for a nice look try Benefit Mr Frosty which is a pearl white highlighting pencil which can also be used as a brow bone highlighter.  Mr Frosty can help you look more awake by applying it along the inner ridge of your lower lash line (it works!), $18.
To complete your look try Benefit Powder Pop Limited Edition powder that contains hoola, dandelion and dallas all in one collectible little box, $30.  
These are the season's must-haves multi-task products from Benefit Cosmetics.  Benefit Just In Case is a mini beautifier, a perfect solution when you just need to touch up and there is no mirror or bathroom in sight. Also, when you're between work and a date or when you are having an "unexpected" sleepover.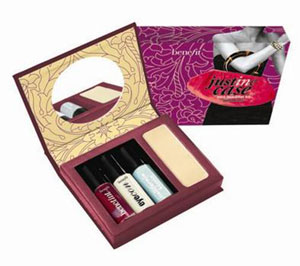 Just In Case contains Benefit's favorite one-hit wonders for beauty emergencies like: Some Kind of Gorgeous-the foundation faker for a flawless complexion.  Benetint-the sexiest flush you can get from a bottle for lips and cheeks.  California Kissin'-aqua gloss for a bright smile and minty breath.  Eyecon– a little moisture goes a long way and it fades dark circles night or day. 
Benefit Miss Popularity a precision soft shimmering highlighter for eyes and face.  For bright eyes apply to the triangles of the the eyes and blend.  To perk up your smile apply to outer corners of lips and blend. To simplify your nose apply 3 dots down the middle and blend.  Cost: $30. 

Celebrity makeup artist Patrick Tumey loves Benefit Miss Popularity: "Miss Popularity just melts in your skin.  The applicator is so great so you hardly need to blend.  It looks so natural and is great for the brow bone, cheek bone, down the nose and especially around the eyes.  It is the best highlighter I've ever used."  Cost: $24.
Benefit Her Glossiness Set Privileged Lips a limited edition  set of three double ended wands with six luscious head turning glosses.  Cost: $26.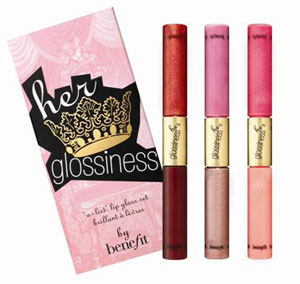 Source: Benefit Cosmetics Press Release.
 
Benefit Cosmetics counters are buzzing with Beauty Patrol excitement during the month of September and October.  Benefits Beauty Patrol will be issuing citation to all those gals that are in "violation" of looking their best. Forgot your lip gloss? Need a little perk-me-up? Benefit Beauty Artists will get you looking gorgeous with Benefit's instant beauty solutions.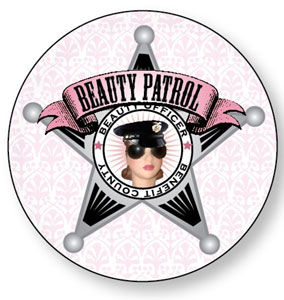 Beauty officers are patrolling in Macy's near you.  See below a list's of dates and locations.  Bloomingdale's 59th street New York City, October 18-October 28.  
Macy's:
Grand Rapids MI: Oct 26-27.
Hawthorn/ Fox Valley: Oct 20
Oakbrook/Woodsfield, Chicago: Nov 2
State street Chicago: every week in October
Water Tower Chicago: Oct week 1.
Southdale MN: Sep 29
Michigan: week of Oct 8.
Macy's East Beauty Week: week of October  13th. 
  
New Benefit 24K Sexy Gold Lipstick is a limited edition shimmering gold lipstick.
New Benefit 24K Sexy Gold Lipstick can be used on its own or to add shimmer and gold to your favorite lipstick.  Cost: $20.