All Posts Tagged With: "Guerlain"
I just discovered my ultimate signature perfume: Shalimar Parfum Initial. When I want to smell unforgettable and feel elegant and classic I wear Shalimar Parfum Initial. This one is the new version of the old time classic Shalimar perfume by Guerlain which was created by Thierry Wasser. The scent is exactly what I Iove, smooth and warm. I love the vanilla and tonka bean dry-down it does feel and smell like cashmere on the skin. The floral notes like the iris and rose are very deep, bold, and smooth, unlike some perfumes where the floral smell is too pokey. I believe every woman needs at least one classic perfume, for me it's Shalimar Parfum Initial.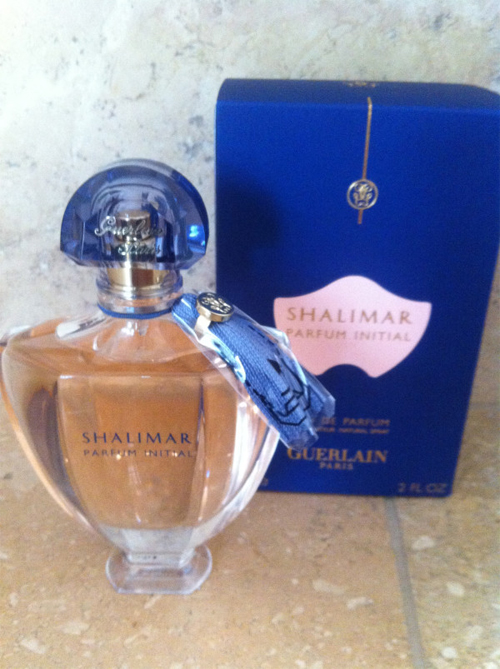 ***I was able to sample this Shalimar Parfum Initial bottle thanks to Guerlain***
I've been recently watching a British documentary on BBC Four called perfume where I became obsessed with Shalimar perfume by Guerlain. It seems that Guerlain prides itself to be a proper perfume house as oppose to "btw I aslo have a perfume" category which is quite intriguing. Beacuse all I'm thinking is quality and timeless classic. I've also learned about Thierry Wasser who created the new version of Shalimar simply called: Shalimar Parfum Initial and the creative process.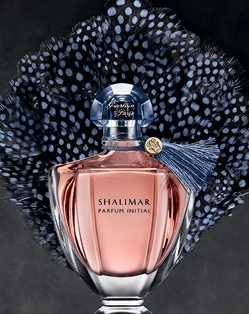 Shalimar Parfum Initial was developed by Guerlain house perfumer Thierry Wasser, reportedly at the request of his niece.
"It was a real challenge" describes Wasser "allowing the perfume to evolve in time, 85 years after its creation, without distorting it and retaining the alchemy that makes it so desirable. I had to lighten but not to disown the fragrance, transpose but not to betray it. Create the future while honoring the past."
Terri Seymour at the Elton John Annual Oscar Party 2010: Makeup by Celebrity Makeup Artist Melissa Walsh.
"This is how I did Terri Seymour's makeup this afternoon for Elton John's annual Oscar party for his his Aids Foundation – if you aren't going to the actual Academy Awards ceremony this is the place to be!"-Melissa Walsh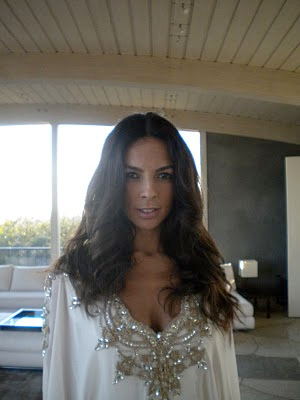 Base: Smooth Hourglass Cosmetics Fluid Veil evenly over the whole face blending out from the middle and downwards.
Under eyes: Dot a little Smashbox Photo-Op Eye Brightener under the eyes to brighten.
The new Guerlain Meteorites Light Diffusing Perfecting Primer is a smoothing liquid that can be applied to clean, moisturized skin before your foundation.
The gel formula  is made with an exclusive color-control base to camouflage blemishes and discoloration, combined with pearlescent extracts to capture and reflect light and blur the appearance of fine lines without adding shine. Guerlain Meteorites Light Diffusing Perfecting Primer is the first makeup base with pearls of light. SRP: $65.
Guerlain Baume de la Ferte Lip Balm helps sooth and hydrate your lips for a sexy plumped look.
Guerlain Baume de la Ferte Lip Balm can be used on or around lips to help reduce the appearance of lip lines.  Cost: $22.  You might also like Guerlain's new Guerlain KissKiss Liplift  which is a smoothing base or a primer for your lips that come in a stick. 
Guerlain KissKiss Liplift help define, smooth and plump the lips and make your lipstick or lipgloss last longer.  This is how it works: special micro beads expand when come in contact with the natural moisture of your lips to make them appear full and plumped.  Comes in a new gilded metal case designed by talented jeweler Herve Van Der Straeten.  Cost: $27.   
Guerlain Divinora Pure Radiance Foundation Primer is are filled with pure 24-karat gold particles that instantly melt into the skin for a super glowing and luminous skin. 
Guerlain Divinora Pure Radiance Foundation Primer also made with highly efficient active elements that moisturize and smooth your skin.  This luxurious foundation primer gel by Guerlain can be used in daytime, with or without make-up and make your makeup last all day.  Cost: $67.
 
If you are looking for an ultra shiny long lasting lip gloss then you might want to check out Guerlain KissKiss Gloss.  KissKiss Gloss by Guerlain is perfect if you are all about sexy pouty lips.  You can choose to drench your lips in sheer, pearly, or sparkly color. Guerlain KissKiss Gloss is made with a non sticky formula that keeps your lips very moisturized.  This lip gloss by Guerlain has special water-resistant and magnifying esters for long-lasting and lip plumping effects.  And its flat, smooth brush provides accurate application. 
Guerlain KissKiss Gloss available in three different formulas: Petal Effect gives sheer coverage, Pearl Effect gets a boost of pearly essence, and Gloss Effect provides a subtle sparkling finish. Talking Makeup favorite Guerlain KissKiss Gloss shade is Cherry Fizz 820.  Cost: $26.  You might also like Guerlain KissKiss Maxi Shine Lipstick which looks like a must-have accessory because of its brilliant white-gold jewel case.  KissKiss Maxi Shine Lipstick by Guerlain is comfortable to wear and it will moisturize your lips.  This lipstick by Guerlain is the new shiny, plump-up, transparent version of Guerlain KissKiss Lipstick.  Guerlain Kisskiss Maxi Shine Lipstick is long lasting, it will give your  lips the volume you always wanted, and they come in many shine sheer shades.  Cost: $26-$27.  Talking Makeup favorite Guerlain Kiss Kiss Maxi Shine Lipstick is Rose Shine 669.
Orchidee Imperiale Fluid by Guerlain is an extraordinary anti-aging cream.  It is  formulated with the Imperiale Orchid Extract.  Guerlain Orchidee Imperiale Fluid is now available in an ultra-light fluid that contains the same benefits and efficiency of the legendary cream.  Cost:  $250.
Orchidee Imperial the cream is also infused with the Orchidée Impériale Molecular Extract, taken from the orchid flower.  This extraordinary extract acts all day to combat and protect against the signs of aging.  Skin recovers its strength, and the appearance of fine lines and wrinkles are smoothed.  Orchidee Imperiale is suitable for all skin types.  Yours for $350.

New at the perfume house of Guerlain is Insolence.  Insolence was created by Maurice Roucel, creator of L'Instant by Guerlain.  The very luxurious Insolence gives a new meaning to violet.  Other notes include:  jubilant red berries like raspberry, a hint of orange blossom, rose, sandalwood, white musk, iris and tonka bean. Cost:  $45 for 1 oz Eau de Toilette Spray,  $61 for 1.7 oz, $89 for 3.4 oz. 
Also try Guerlain Insolence 6.8 oz Body Lotion for $48, and Guerlain Insolence 6.8 Shower Gel for $43.