I've been recently watching a British documentary on BBC Four called perfume where I became obsessed with Shalimar perfume by Guerlain. It seems that Guerlain prides itself to be a proper perfume house as oppose to "btw I aslo have a perfume" category which is quite intriguing. Beacuse all I'm thinking is quality and timeless classic. I've also learned about Thierry Wasser who created the new version of Shalimar simply called: Shalimar Parfum Initial and the creative process.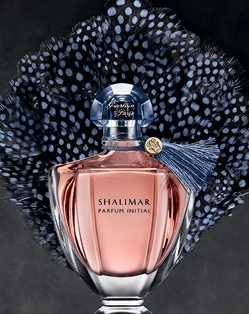 Shalimar Parfum Initial was developed by Guerlain house perfumer Thierry Wasser, reportedly at the request of his niece.
"It was a real challenge" describes Wasser "allowing the perfume to evolve in time, 85 years after its creation, without distorting it and retaining the alchemy that makes it so desirable. I had to lighten but not to disown the fragrance, transpose but not to betray it. Create the future while honoring the past."
Described as amber-floral fragrance with Notes: Amber, Bergamot, Rose, Jasmine, Iris, Vanilla, Tonka Bean. Available August 2011.