Do you ever wonder who is behind your favorite makeup brand, like Benefit Cosmetics?  Now BeautyInterview.com is giving you a chance to learn about the creators of this amazing brand, Jean and Jane Ford. In a recent interview for BeautyInterviews.com Jean and Jane Ford talked to Marta Walsh about their early years in New York City as aspiring models, how they flipped a coin between cosmetics and casseroles, what goes behind the creation of Benefit's most popular products, and even some of their beauty secrets.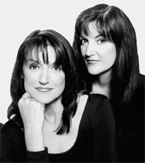 How was the concept for Benefit born?
Jean: My sister and I are very tall…we're both 6'1" – so when we graduated from college at Indiana University in 1970, we moved to New York City together in hopes of becoming successful models.
Jane: We really had no idea what we wanted to do after we graduated college. I had studied marketing & finance, Jean had studied art education. New York City was an exciting place with lots of opportunity. The city lured us in.
Jean: Our life was very simple then. We lived in a tiny narrow apartment together, if you put your arms straight out from you sides, you could touch both walls. We lived in a very artsy neighborhood – everyone around us was a struggling artist of some sort.
Jane: Everyday we would go out on audition after audition and get turned away. We booked a few small jobs here and there, but we barely making enough money to make ends meet so we both had day jobs, we cleaned houses, we worked as sales girls… we did a little bit of everything.
Jean: Our big break came 2 years later, when we booked a series of national commercials for Calgon Bath Beads. We were so excited. It was a dream come true.
Jane: We packed our bags, piled up all we owned into an old station wagon, and drove out west, to California. We settled in San Francisco, and used the money that we earned from those commercials to start our own business.
Jean: We had worked for so many people over the years, doing all kinds of odd jobs. It was our goal to open our own business. The two things we knew best were doing makeup, from all of those years of doing our own makeup as models (before the era of supermodels, gals did their own) and we baked a mean casserole… growing up in the Midwest, we were constantly in the kitchen cooking with mom.
Jane: We flipped a coin to decide. That's how we ended up here. It was between casseroles and cosmetics. In 1976, we opened up a tiny makeup shop called The Face Place, in the mission district of San Francisco. The business took off! In 1990, we changed the name to Benefit.
Jean: The name Benefit, was created as a result of a vacation to Italy. Jane and I had 24 hours to change the name of our boutiques from The Face Place into a "brand" name…one that people would identify with.
Jane: We were asked quickly to have this done if we wanted a two page placement spread in a very high end catalog.
Jean: Jane was working at one boutique, I in another…Jane had just returned from Italy and commented "bene, bene, bene" "I wish something "fit" with bene…thus Benefit was born.
Where do you get the inspiration for your products?
Jane: The single most important thing when creating a new product is to start with "a need". This new product must fill a need. The challenge is coming up with something that is completely original. For most products, our inspiration comes from our day-to-day life. Any situation or conversation can give you an idea for a new product or package. We speak with our customers. We find out what they want.
Jean: Over the years, Jane and I have collected vintage pieces for inspiration… we have vintage mannequins, compacts, posters, handbags, & lots of old magazines. There is something very romantic about the past. For our packaging, we use both modern & old-fashion images & styles to create fun products that women will want to carry in their bags or display on their vanity.
What is new this year at Benefit?
Jean: We have a new precision highlighter for eyes & face called Miss Popularity that comes out this winter. It's fabulous. It comes with a little lesson that teaches you tricks for brightening the eyes, perking up your smile, slimifying your nose – it's this little bottle that does it all. I've been wearing it everyday.
Jane: It took us 2 years to develop the formula and bottle for Miss Popularity. It's housed in a custom designed barrel that dispenses just the right amount of finely spun white shimmer powder onto the brush so you can control the highlight and place it just where you need it.
To read full interview with Jean and Jane Ford, founders of Benefit Cosmetics click here!