I'm so excited to share with you my interview with "Eastwick" star Jaime Ray Newman who plays the character of Kat Gardener. Eastwick is an American television drama series, that is scheduled to premiere on ABC on Wednesday, September 23, 2009 at 10:00 PM ET. Eastwick is a television adaption of the 1987 feature The Witches of Eastwick. Show's cast also includes Lindsay Price, and Rebecca Romijn.
Newman's previous roles include: Kristina Carter Cassadine on the soap opera, General Hospital. And, a part in the Steven Spielberg's Catch Me If You Can, with a scene opposite Leonardo DiCaprio.

Jaime Ray Newman
In this interview Jaime Ray Newman talks to Marta Walsh about her first breaks as an actress. Her role as Kat Rougemont on the new ABC show "Eastwick". Beauty secrets, and future plans.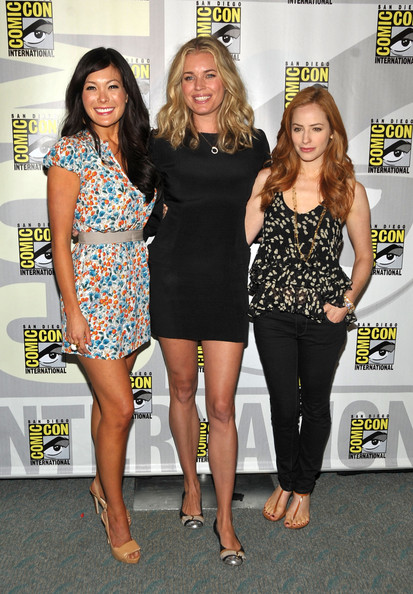 "Eastwick" stars from left: Lindsay Price, Rebecca Romijn, and Jaime Ray Newman
Marta Walsh: How did you decide on a career in acting, and what were some of your first breaks as an actress?
Jaime Ray Newman: I did my first professional play when I was 12. A local theater came to my middle school to audition girls for a new Israel Horowitz play, and I got the gig. My parents first reaction was "There are two people in this household with careers and you're not one of them". But after much begging, they acquiesced, and away I went. My first real break was playing Kristina Cassadine on "General Hospital". I was fresh out of college and thrilled to be working.
MW: What attracted you to Kat Rougemont's character on the new ABC show "Eastwick"?
JRN: I love playing Kat. She's quite unlike me, actually, so I really get to dig and create a character. She's undertaken so much responsibility (5 children, a full time job, a husband who may as well be one of her kids) that she hasn't had a second for herself since she was 18. She's struggling to find her voice again, and that is always fascinating to me. Playing someone in deep conflict is always the most interesting.
Watch "Eastwick" trailer below, the show looks so cute! It's like "Sex and The City" meets "Charmed".
MW: How was it working on "Eastwick" set with your director and your co-stars?
JRN: First of all, I owe much to David Nutter, our pilot director. He's the magic man, hands down. We are his 15th pilot to get on the air. And I know he could have cast someone with more name recognition, so I am grateful that he really went to the mat for me to play this role. He's one of the best, most focused directors out there. And what can I say about Rebecca Romijn and Lindsey Price? I am the luckiest girl around to get to go to work everyday with these amazing women. All we do all day long is laugh. They rock. Oh, and Paul Gross? Well I am the biggest "Slings and Arrows" fan out there, so it's kind of like working with your idol. And boy is he sexy.
MW: Which other film genres do you enjoy most playing, and what would be your dream acting role?
JRN: I love romantic comedies, but I also love small indie dramas. I'd love to produce one at some point, and actually have something in the works right now. Small budgets don't scare me, I think they free you up to take risks and throw rules and regulations to the wind. And dream role? Anything far from myself – accents, different time periods, etc. What's the fun of acting if you can't stretch your imagination wide?
MW: What is next for Jaime Ray Newman?
JRN: I am a singer, and have FINALLY started taking guitar lessons. I'd love to do more song writing. Also, I am going to the Middle East over Christmas to finish up a script I am collaborating on with a filmmaker from Israel. It's a small, dark fish out of water dramedy that takes place in the West Bank. Crazy, I know, but I am very passionate about that part of the world and would do anything to work there! Hopefully "Eastwick" will shoot for a long time to come, so I will be unavailable for a while!
Jaime Ray Newman's Beauty Secrets:
I keep my hair beautiful thanks to…
L'Oreal colorist collection in orange marigold. I have to use something with color or else the red fades too fast. And Kerastase conditioner is AMAZING for hair that is highly abused like mine. I am always curling, straightening and coloring it, so I need to treat it kindly!
My favorite skincare products are…
M.D. Forte night cream is really rich, creamy and unscented, which I like. And I use a natural sunscreen from Ma Chelle during the day.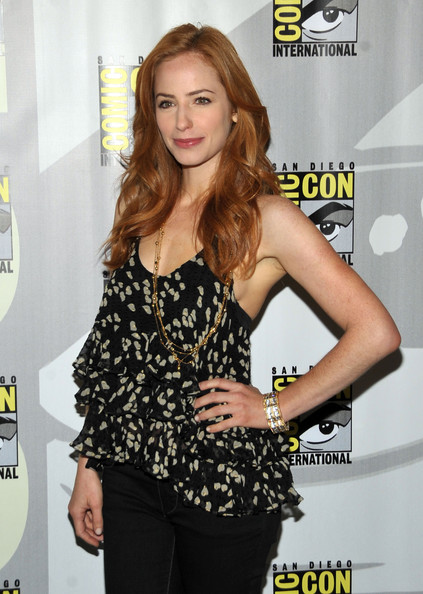 I get my eyelashes looking long, full, and sexy using…
Bad Gal by Benefit. Kim Greene, an amazing makeup artist I worked with introduced me to this mascara, and I am addicted. The brush is HUGE so it gives anyone enormous lashes.
The best lip-gloss I ever owned…
I'm OBSESSED with O-Gloss. Rebecca Romijn turned me onto it. It gives me pouty, moist lips and gets more color as you wear it.
My signature fragrance is…
I love natural perfume oils, like C.O. Bigelow's Freesia.
What's in your makeup bag…
I am a huge blush and mascara fan. Orgasm by Nars suits my fair skin really well. And anything Stila makes in shimmery browns. I love their colors.
My number one beauty secret is…
Lots of water, and lots of sleep. The latter is a bit harder to come by these days…
The celebrity I find most beautiful is…
Julianne Moore. How could I not choose a redhead?
The city I love the most…
Is New York City. I've traveled quite a bit in my life, but my heart will always belong to the Big Apple.
One or two things some people may not know about Jaime Ray Newman…
I had an 8 piece funk band called "School Boy Crush" when I first moved to LA. We played the ESPN Awards at the Kodak Theater, amongst other events. I definitely wanted to be Chaka Khan. Jury's still out about that…
Images via zimbio.com taken ar the "Eastwick" pilot screening at Comic-Con 2009 held at San Diego Convention Center on July 25, 2009 in San Diego, California. (July 24, 2009 – Photo by John Shearer/Getty Images North America)
Photo credit: DailyMakeover.com and Getty Images