All Posts Tagged With: "LA PERLA"
LA PERLA PRESENTS THE PRE-FALL 2017 CAMPAIGN STARRING KENDALL JENNER SET IN THE KALEIDOSCOPIC WORLD OF AN ENGLISH POP ART GARDEN
NEW YORK, NY: MAY 18, 2017: A surreal garden of gigantic begonias, a colossal hibiscus, and reimagined tulips comes to life in a world of fantasy and art designed by La Perla Creative Director, Julia Haart. Inspired by the works of Georgia O'Keeffe and Peter Max, Haart calls upon her favorite pieces from the pop-art and modernist movements to fuse the Pre-Fall 2017 Campaign with her own cast of psychedelic creativity.
Estee Lauder spokes model Hilary Rhoda attended the Seventh Annual New Yorkers for Children April Fool's Fete benefiting youth in foster care at the Mandarin Oriental Hotel in New York City, Thursday, April 8th, 2010. The event raised almost half a million dollars. Hillary's makeup was by Estee Lauder and her dress by La Perla.
Hourglass Cosmetics lead makeup artist Michael Pierce created the LA PERLA Fall 2010 Collection Preview makeup look. The preview took place at the Lehmann Maupin gallery in NYC on the first day of Fashion Week.
"LA PERLA is known for stunning, one-of-a-kind lingerie," say Michael Pierce. "Women simply feel beautiful when wearing their pieces and when creating the makeup, I wanted to reflect the inner-confidence and radiance that comes with wearing LA PERLA."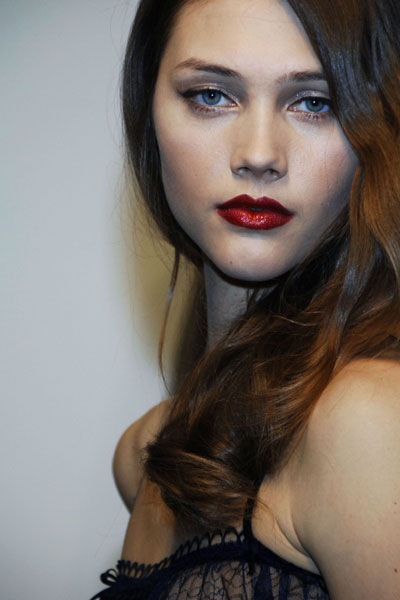 Makeup Tutorial:
For the LA PERLA collection, I was inspired by 40s Hollywood – Veronica Lake and other silver screen sirens. The focus is on a gorgeous, strong red lip, but a red that every woman can wear. LA PERLA is beautiful, sexy and feminine and nothing portrays a woman's beauty like the ability to wear a truly stunning red. Hourglass' "Raven" lipstick is gorgeous and sexy– and works for all women. To add to this look, the eyes are light with tight black eyeliner.