Winter Skin: Kiehl's NEW Ultra Facial Kits: In response to customer feedback, Kiehl's Since 1851, the venerable New York-based purveyor of fine quality skin and hair care is introducing two Ultra Facial Kits. Inspired by Kiehl's classic Ultra Facial Moisturizer, a favorite since the early 1970s that provides superior moisture, these kits consist of hydrating formulations enriched with restoring Squalane to deliver restored and healthier skin – ideal for the harsh winter weather.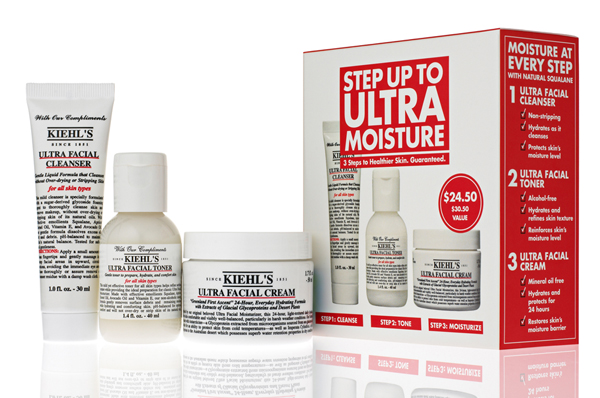 Formulated for all skin types, each product in the Ultra Facial Kits is infused with a blend of Kiehl's classic ingredients including Squalane*, Apricot Kernel Oil, Avocado Oil, and Vitamin C and E – providing moisture and hydration at every step.
Ultra Facial Cream Kit: $24.50. Set includes: Ultra Facial Cleanser, Ultra Facial Toner, and Ultra Facial Cream
Step 1 – Cleanse – Ultra Facial Cleanser is a mild cleanser specially formulated with a sugar-derived glycoside foaming agent to thoroughly cleanse skin and remove make-up, without stripping skin of its natural oils.
Step 2 – Tone – Ultra Facial Toner is a mild, yet effective alcohol-free toner that gently removes surface debris and any remaining residue while providing hydration and comfort to skin.
Step 3 – Moisturize – One kit includes Ultra Facial Cream, a 24 hour hydrator, helps reduce skin's moisture loss while drawing and absorbing moisture from the air. Skin is visibly well-balanced, particularly in harsh weather conditions. The other kit offers Ultra Facial Moisturizer SPF 15, a preparation with a light, moisturizing texture that will leave the skin feeling smooth and conditioned after use.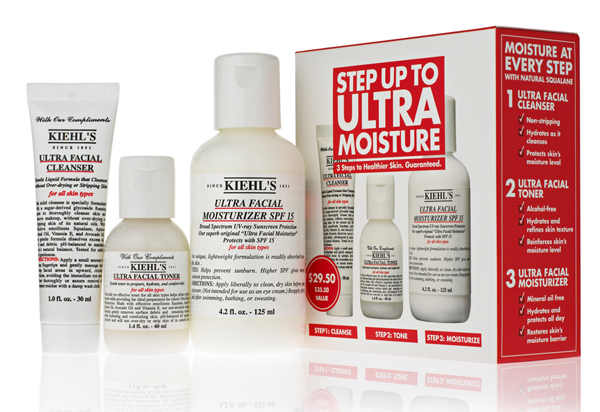 Ultra Facial Moisturizer Kit: $29.50. Set includes: Ultra Facial Cleanser, Ultra Facial Toner, Ultra Facial Moisturizer with SPF 15
*Squalane is an iconic ingredient at Kiehl's, used in 56 of our products. Like Squalene, Squalane is a botanical liquid that is similar in molecular structure to natural skin lipids. It has an exceptional affinity to the skin, and because it's easily absorbed, it helps to restore skin's natural moisture balance to keep it extra soft and supple – ideal for the cold months. Squalane is non-toxic, non-irritant and a non-allergen and is important in the anti-aging category of skincare. Particularly for the winter season, it is a very important skincare ingredient to create a barrier of protection on the skin.
Kiehl's was founded as an old-world apothecary in New York's East Village neighborhood. Its unique and extensive background represents a blend of cosmetic, pharmaceutical, herbal, and medicinal knowledge developed and passed on through the generations. In addition to Kiehl's freestanding stores nationwide, Kiehl's products are available at www.Kiehls.com , by mail order at 1-800-KIEHLS-1 as well as through select specialty retailers.