All Posts Tagged With: "bioelectricity"
A major new advancement in skincare has been unveiled at this year's American Academy of Dermatology meeting. The meeting is still underway, but the new technology, called CYTOMIMIC Technology from Johnson & Johnson Consumer Companies, Inc. is already proving to be among the biggest news to come out of the AAD meeting.

Building on decades of research into how the body's electrical field affects skin regeneration, scientists at Johnson & Johnson Consumer Companies, Inc., have discovered how to harness the power of bioelectricity to help improve skin rejuvenation.
Neutrogena Clinical Skin Care: Arriving in stores next week, and currently available at www.neutrogenaclinical.com, Neutrogena introduces Neutrogena Clinical- a new skin care line inspired by bioelectricity.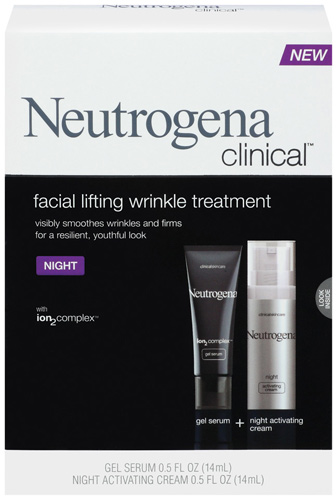 What is bioelectricity you may ask? Bioelectricity is the body's innate electrical signaling system and, as the body ages, diminished bioelectric signals can result in decreased cell-to-cell communication. This decreased communication, in turn, can cause a decrease in collagen production, which leads to visible signs of aging, including wrinkles and sagging skin. Neutrogena Clinical, featuring ion2complex technology, works by facilitating optimal cell-to-cell communication at the surface level of the skin to promote healthy collagen levels.
What's in it for you? Women with collagen-depleted skin, which is visible as wrinkles and sagging skin, will benefit most from Neutrogena Clinical.
The Neutrogena Clinical Skin Care products:
There are 4 systems. Each comes with an ion2complex Gel Serum and a specifically formulated Activating Moisturizer.