All Posts Tagged With: "breakouts"
Expert Skincare Tips: St. Ives Q&A with Dr. Marsha Gordon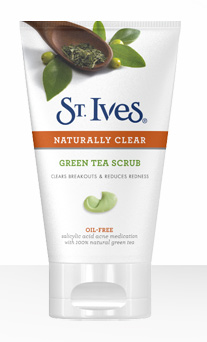 As the weather gets warmer, my breakouts and irritation become worse. To keep my skin acne-free all year round, should I be adjusting my regimen as the seasons change?
While many women need to adjust their skin care regimen as the seasons change, this can be especially true for women with acne-prone or oily skin. Your regimen that worked in the winter may leave skin feeling oily and clogged during the warmer months. In the spring, I recommend switching to a light, oil-free moisturizer and using a cleanser and scrub to help remove dead skin cells and keep pores clear. I personally like the new St. Ives Naturally Clear Green Tea Cleanser and Scrub (image above), which contain a safe concentration of Salicylic Acid to effectively fight blemishes and reduce redness, while 100% natural Green Tea soothes skin.