NEW from Patricia Wexler M.D. Dermatology: Anti-Aging for Sensitive Skin product line designed for both anti-aging treatment and sensitive skincare.
Sensitive skin sufferers have long been faced with a choice: combat the signs of aging and risk redness and irritation, or accommodate sensitive skin. With the introduction of Patricia Wexler M.D. Dermatology Anti-Aging for Sensitive Skin, you don't have to choose — the breakthrough four-step regimen gently and effectively addresses the needs of both aging and sensitive skin.
Patricia Wexler M.D. Dermatology is one of my favorite skincare lines. Her products are always gentle on my skin, smell clean and not loaded with fragrance, and her moisturizers are very hydrating.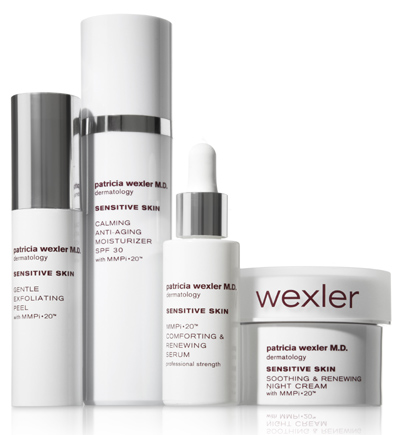 Each product in the regimen is specially designed to soothe and calm skin while reversing signs of aging without irritation:
· Gentle Exfoliating Peel reveals healthy, fresh skin in one trauma-free step ($34.50)
· MMPi20 Comforting & Renewing Serum decreases skin's reactivity while visibly diminishing signs of aging ($55)
· Calming Anti-Aging Moisturizer SPF 30 protects skin from environmental aggressors without irritating skin ($39.50)
· Soothing & Renewing Night Cream soothes skin on contact and restores skins' moisture barriers ($39.50)
Available: The line hit stores in mid-September.