I'm excited to share with you my interview with Sofia Vintage Co-Owner Ashley Zisook!
Gossip Girl star, Leighton Meester, has recently spotted shopping at Chicago's premier shopping destination, Sofia Vintage at 1165 North Clark Street. Leighton was in town for her performance at The Underground and was dressed head to toe in Sofia Vintage's finest fashions for the red carpet including a sexy long sleeve open back, black lace top with trendy olive colored trousers.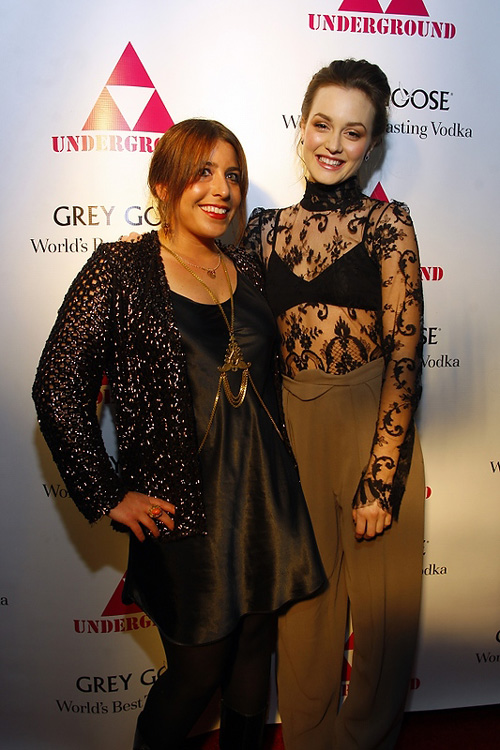 L to R: Sofia Vintage co-owner, Ashley Zisook and Leighton Meester
photo credit Rob Grabowski
Launched in the spring of '09, Sofia Vintage features a variety of men and women's vintage clothing, emerging designers, and accessories, at all price points. Co-owners, Ashley Zisook and Allison Zisook Goldstein, Chicago natives and sisters with two drastically different fashion styles and backgrounds, join forces to bring Chicagoans unique vintage pieces with a goal to revive class, grace and beauty from decades past intertwined with today's trends.
In this interview Ashley Zisook talks to Marta Walsh about her love for fashion and the creation of Sofia Vintage. Her meeting with Leighton Meester. How she makes her partnership with sister Allison work. Personal style and philosophy about life. 
Marta Walsh: When did you first become interested in fashion?
Ashley Zisook: I have always been into fashion… however, I never really thought it would be my career. I was in the music industry in Los Angeles and I felt I needed more creativity in my life so I enrolled in FIDM and started "The Piece" with 2 of my college friends from Boulder. The Piece was a once a month vintage sale for ladies we would do in our backyard–each month it would keep getting bigger! When I was moving back to Chicago I knew I wanted to continue doing something like The Piece, but on a much bigger scale—I wanted to offer Chicago a different type of shopping experience that hadn't ever been done before.
MW: How was the concept for the Sofia Vintage boutique born?
AZ: We took many elements from The Piece and then added menswear and new lines from up and coming, emerging designers. The concept of Sofia is to mix the new with the old, bring back the beauty and grace of fashion and individual style. I want people to come to Sofia and have an experience…its like walking into your best friend's closet and, you get the bonus of personal styling if you choose.
MW: Who do you see shopping in Sofia Vintage?
AZ: Sofia Vintage really has something for everyone! From the most conservative dressers to the biggest fashion risk takers, everyone can wear the pieces at Sofia. Also, we have a price point for everyone so anyone can shop here!
MW: How do you go about buying for the store, where do you get your inspiration?
AZ: We go to estate sales, auctions, consignment, and take buying road trips across the country. I get inspiration from everywhere and everything…I love to travel and see how people in each city and different countries dress…I love watching all the runway shows from all of the major fashion weeks. When I go shopping for the store I envision a specific person for what I'm buying. Everything in the store is there for a reason…it is all handpicked by either my sister or me.
MW: How do you make the business partnership with sister Allison work?
AZ: Both Allison and I are both very laid back–we know what each of us brings to Sofia. She's better on the business side of things while I'm better at styling and pulling outfits together. She's very organized and I'm more creative. We certainly balance each other out and she is absolutely my best friend.
MW: We hear actress Leighton Meester stopped by Sofia Vintage recently. What was it like meeting Leighton and also finding the best outfit for her?
AZ: Leighton was super sweet…she tried on a bunch of different outfits. Specifically, we were looking for 2 outfits for that evening- one for press and one for her live performance at The Underground (a nightclub in Chicago). We went through all the looks we pulled, narrowed it down to our favorites and finally came up with the winning look…a black long sleeve, open back lace top with olive trousers. Leighton is such a fashion forward individual and a style icon of today's generation, so I was truly honored to have her in Sofia!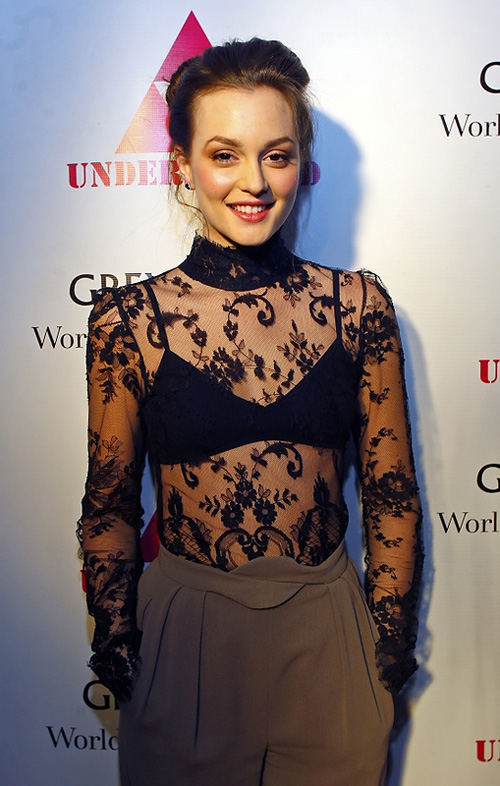 Leighton Meester in Sofia Vintage on the red carpet for The Underground.
Photo credit Rob Grabowski
MW: Which other celebrities do you see wearing the styles in your boutique?
AZ: I see celebrities like Nicole Ritchie, Ashley and Mary-Kate Olsen, Chloe Sevigny, Kate Hudson…Rachel Zoe would DIE in here (in her own words J) all wearing Sofia Vintage. I've styled a many musicians and I think rock stars would just love it!
MW: How would you describe Chicago when it comes to style?
AZ: I think Chicago is growing in terms of style…people are becoming more creative and wanting to be more original. I want to help people step out of what they are used to or what they think they are supposed to be wearing and help them find their individual style…every time someone puts on an outfit they should feel amazing and confident like they will rock wherever they are going…whether it be a job interview, first date or Sunday afternoon.
MW: How would you describe your own personal style?
AZ: I like to mix pieces from different eras together…the old classic styles with modern looks…laid back…boho-california comfortable….I accessorize A LOT!!! I also always carry at least 2 pairs of sunglasses with me. I always like to take risks and have fun with my style…you only live once!
MW: What is next for you and for Sofia Vintage?
AZ: I don't like to plan…I always like to see where life takes me….life is a journey…that's why I always say "live lovely"….cause really, if you want to enjoy your life, that's all you can do.
Thank you Ashley Zisook for brilliant interview! xo Marta
Sofia Vintage is located in the Gold Coast at 1165 N. Clark St. in Suite 400, Chicago, IL 60610. They accepts Cash, Visa, Mastercard, and Discover. Store hours are Tuesday through Saturday from noon to 7 p.m. and open for hosted monthly parties. Please contact Ashley and/or Allison at 312.640.0878 or visit www.sofiavintage.com  for additional information. Parking available: metered street parking, Treasure Island parking garage, and Clark/Division red line accessible.