All Posts Tagged With: "Gossip Girl"
Gossip Girl star, Leighton Meester, shopped at Chicago's premier shopping destination, Sofia Vintage at 1165 North Clark Street, Suite 400 on Friday, January 1st. Leighton was in town for her performance at The Underground and was dressed head to toe in Sofia Vintage's finest fashions for the red carpet including a sexy long sleeve open back, black lace top with trendy olive colored trousers.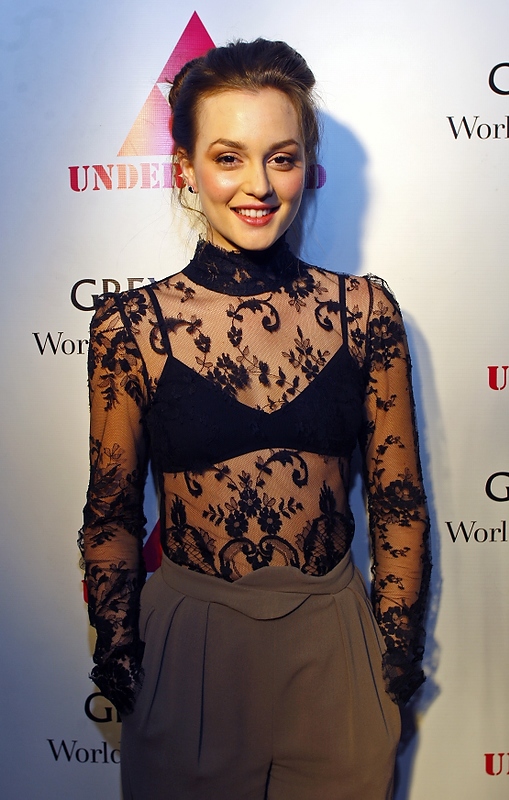 Leighton in Sofia Vintage from the red carpet at The Underground (photo credit Rob Grabowski)
Just in case you didn't get enough of the New Moon Permiere last week, here are some highlights via swide.com 
Robert Pattinson at NY's New Moon screening wearing D&G (image below):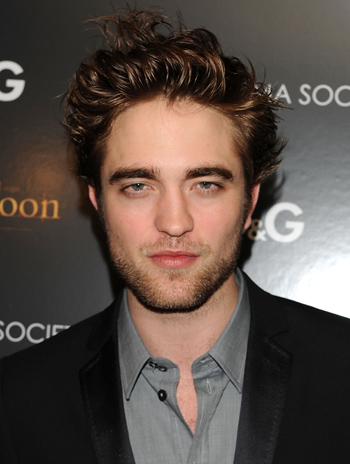 "We saw Twilight and we loved the kind of visceral, profound love that links the protagonists, their passions and their values. This is why we wanted to celebrate the release of New Moon with D&G by organizing a special screening and an after-party at The Box in New York. Robert Pattison, Kristen Stewart and Taylor Lautner, apart from being beautiful, embody an ideal that goes beyond the story that they interpret. They let us understand that there is a need of emotions and of passions. They are for real the mirror of that generation that inspires our creations, that generation to which we are trying to talk with our work".-Domenico Dolce and Stefano Gabbana
Last night, Diesel Only The Brave celebrated their newest fragrance launch with an intimate live performance by the face of the scent, Common (who is currently filming "Just Wright" with Queen Latifah in NYC). Michelle Trachtenberg ("Gossip Girl"), Olivia Palermo ("The City") and model Sessilee Lopez were also in attendance for the event held at Capitale in NYC.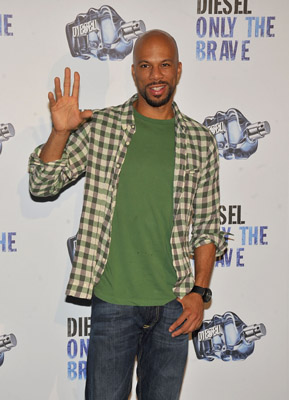 Artist Common
The GRAMMY-winning hip-hop artist's performance embodied the spirit of determination and perseverance. This private concert for Common's friends and celebrity fans captured the essence of empowerment, a sense that the performer depicts throughout his work, from his music to his community outreach.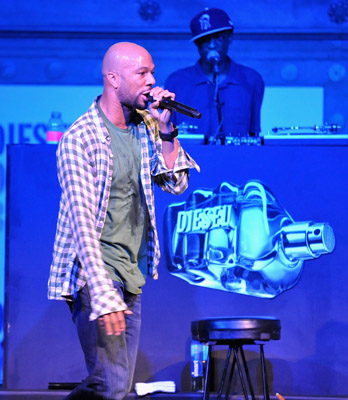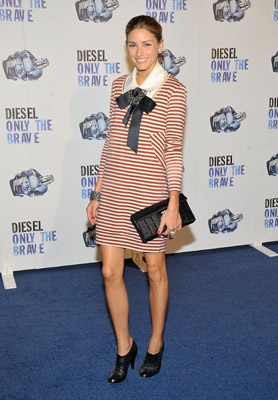 Olivia Palermo, "The City"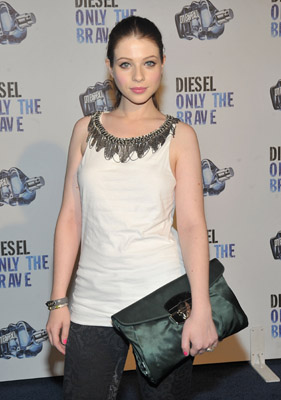 Michelle Trachtenberg , "Gossip Girl"
Leighton Meester is best known for her role as Blair Waldorf in the TV show Gossip Girl, and imo, represents Hollywood's next generation of beautiful actresses.
Leighton Meester's beauty is undeniable, however, which is a better look: Leighton Meester with brown hair or Leighton Meester with blonde hair?
Spotted! Jessica Szohr sampling fragrances from Michael Kors and DKNY at Bloomingdale's in Los Angeles. We're told the "Gossip Girl" star was getting a jump start on Mother's Day shopping, picking out fragrance and other gifts for her mom.
Here are photos of Gossip Girl Jessica Szohr testing the DKNY Be Delicious and Island Michael Kors Bermuda scents (photo credit: Wire Image).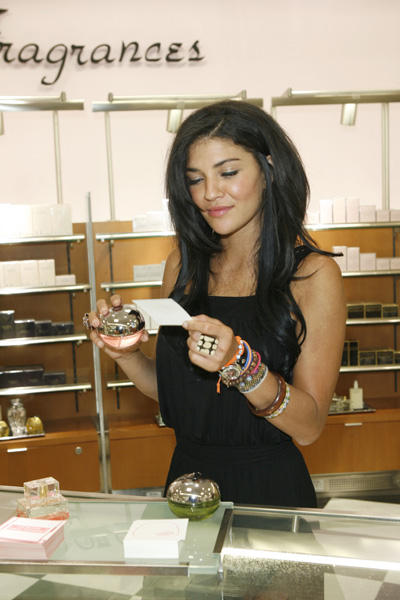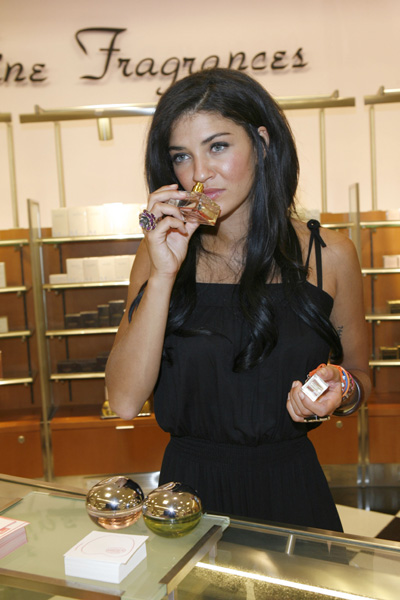 Mother's Day is this Sunday (May 10) and you can also pick up these great gifts for mom!
DKNY Be Delicious EDP Spray (1.7 Fl. Oz. / $55.00 SRP): A modern feast for the senses. Served in a sleek metal and glass apple bottle, this juicy fragrance combines the scent of apple with a sophisticated blend of exotic flowers and sensual woods. Like the city that inspired it, DKNY Be Delicious celebrates individuality with refreshing spirit.
Taylor Momsen was spotted at Marchesa and Anna Sui's A/W 2009 shows wearing NARS Cosmetics.
Taylor Momsen portrays the character Jenny Humphrey on The CW television series Gossip Girl.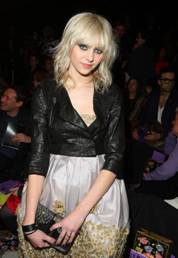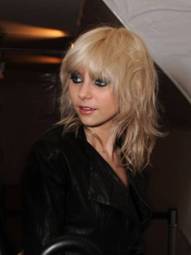 "Taylor wanted a smoky, strong eye – her signature look," said NARS Makeup Artist Sharon Brown. "I used Black Moon Eyeliner Pencil to rim her eyes and smudge over the entire lid."

…Blue shadow was layered for a pop of color. Finally, Cyprus, a bronze shadow with shimmer, was added for a flawless transition into her next outfit.

"She was wearing a beautiful dress with copper accents later that night so I wanted the look to work well into the evening." With the eyes as the focus, the cheeks were kept soft and highlighted, and the lips were delicately glossed with a new sheer pink grapefruit shade for spring.
Below is Sharon's step-by-step to recreate Taylor's look:
Gossip Girl actress, Blake Lively, is one of my favorite new Hollywood starlets. Blake posses an effortless beauty that I so admire. Here is a photo of Blake Lively at Private Lives of Pippa Lee Premiere from Monday night.
Blake Lively's hair is blown straight with a bit of volume and wave. I particularly love this hairstyle because the hair doesn't have to be in one place, it can be tousled naturally and look almost undone, or that Blake didn't spend too much time with her hairstylist.
Blake Lively is my favorite Gossip Girl star. Which Gossip Girl star is your favorite?
From sexy updos to glamorous curls, these chicks are hairdo chameleons
Whether they're on set wearing cool headbands or posing for the paparazzi in glam curls and sexy ponytails, the ladies of "Gossip Girl" look amazing. Let their ever-changing 'dos inspire you to try a new style.
MAC Cosmetics provides artistry and product support to numerous films, television shows, theatrical productions and performances around the world. In addition to supporting such shows as Mad Men, Gossip Girl and Ugly Betty, MAC is also the official makeup of Cirque du Soleil.
One of the latest projects is the film production of Twilight, the highly anticipated, #1 New York Times Bestselling book by Stephenie Meyer brought to life. With over 17 million books in print, these books are a cultural phenomenon.
The movie Twilight, is scheduled to premiere in November 21, 2008.
Below is an interview with Makeup Department Head Jeanne Van Phue with some insight into the makeup direction of the movie.
Q: What was the process for creating the various characters' looks?
A: Katherine Hardwicke, the director, and I have previously worked together on a movie called "Lords of Dogtown," so we know each other very well. I began by preparing sketches of my vision, keeping in mind the descriptions Stephanie Myers (Twilight's Author) set forth in the books.
Bella's (Kristen Stewart's character) description in the novel is very pale and extremely beautiful with large chocolate brown eyes, so she wore colored lenses every day. I also pictured her as a natural beauty, which is exactly what Kristen is. I used a light hand while applying all neutral colors to make her look as though she had no makeup on.
Edward's (Robert Pattinson's character) description in the novel is impossibly handsome almost god-like. His skin is marble-pale, hard as stone and ice cold, but perfect and flawless. Edwards' eyes are described as topaz colored when he is normal and black like onyx, when hungry.
Blake Lively Stops Traffic Hailing a Cab in NYC Wearing her VS PINK Letterman Sweater ($48), and Kooba Blake Bag ($645).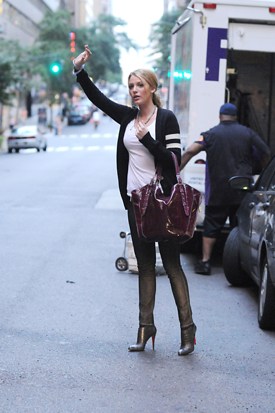 Blake Lively is the beautiful actress from the hit series Gossip Girl, which is an American television teen drama based on the popular novel series of the same name, written by Cecily von Ziegesar. Gossip Girl revolves around the lives of socialite young adults growing up on New York City's Upper East Side who attend elite academic institutions while dealing with sex, drugs, jealousy, and other teenage issues. The second season premiered September 1, 2008 on The CW and A Channel.