Blake Lively's character 'Serena' wore a gold Lorena Sarbu sequin scallop dress on last night's episode, 1/16/2012, of Gossip Girl "The End of the Affair". Blake paired it with a chunky, bold statement necklace and leggings. Do you love?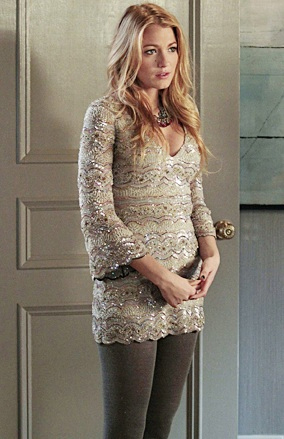 Blake Lively's Gossip Girl Character Serena
Lorena Sarbu Fashion
As a contemporary woman with impeccable style, Lorena Sarbu infuses her glamorous and European-inspired personal style into each of her beautifully timeless creations. With an eye for exquisite detail, Sarbu combines sumptuous fabrics, unique textures and intricate embellishments to create distinctively stunning designs for the modern woman. Lorena Sarbu has already garnered a following in Hollywood, bringing style and glamour to the red-carpet with her unique couture designs. The collection is sold at prestigious retailers throughout North America, including Bergdorf Goodman, Saks Fifth Avenue, Hugo Nicholson and Hirshleifer's, as well as high-profile specialty stores and worldwide distribution including Europe, the Middle East and Asia.