All Posts Tagged With: "Scented Mist"
Meet Gossip Girl star Taylor Momsen and celebrate the launch of the new fragrance Sexy Little Things Love Rock by Victoria's Secret Beauty.
WHEN: Thursday January 14, 2010. 6:30-7:30 PM.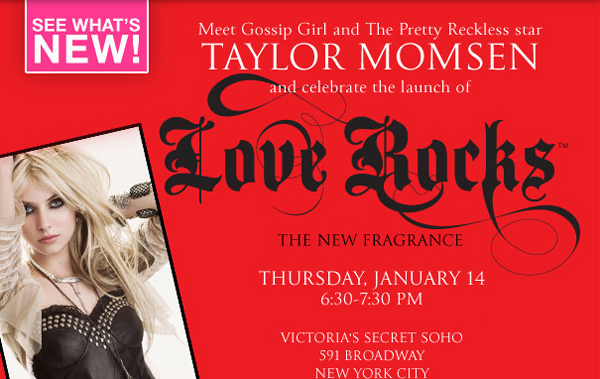 Sexy Little Things Love Rocks  The New Fragrance by Victoria's Secret Beauty: Equal parts hopeless romantic and untamed rebel, Love Rocks is the latest addition to our glamorous Sexy Little Things fragrance collection. Inspired by the edgy allure of rock 'n' roll, Love Rocks is a study in contrasts: Rock star leather paired with pop star lace. Soft in studded stilettos. Powerful and daring, yet intoxicatingly feminine, the scent itself is a rebellious riff on vivid Plum, hypnotic Violet and sensual Vanilla.