With a private tour led by TV series hairstylist Betsy Reyes, IT&LY HAIRFASHION, NA. President/CEO Richard Zucckero visited the set of the smash CW phenomenon Gossip Girl in New York City.
As a professional manufacturer of superior Italian made hair color and color care products, IT&LY HAIRFASHION is an on-set favorite with celebrity hairdresser Betsy Reyes, who is responsible for creating some of the world famous Upper East Side styles of the cast. IT&LY HAIRFASHION spent a day on set in the hair and makeup room, while walking through the elaborate sets created for this New York City elite cast of Gossip Girl.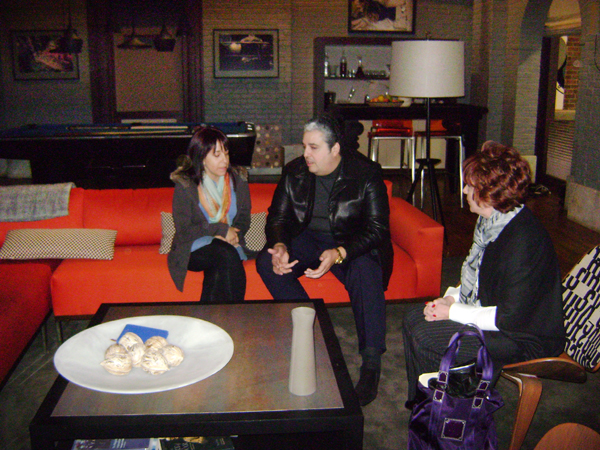 L-R, Gossip Girl Stylist Betsy Reyes talking to IT&LY CEO Richard Zucckero and Publicist Janice McCafferty on the set of character Chuck Bass' Penthouse Apartment.
Gossip Girl hairstylist Betsy Reyes will once again join forces with IT&LY HAIRFASHION by being a featured Celebrity Guest Artist for the company's events by re-creating looks from Gossip Girl using IT&LY HAIRFASHION products. In addition to these events, Betsy will also host several VIP Evenings with IT&LY showcasing her talents and sharing insider styling tips with fellow hairdressers in the industry.
About It&ly Hairfashion, N.A., Inc.: IT&LY HAIRFASHION, Milan Italy manufactures complete professional only hair color systems supported by a line of after-color hair care sold world-wide and cruelty free! They have offices in Pittsburgh, PA and Italy to house the company's advanced training centers. Their Colorly 20/20 permanent hair color along with the soon to be launched Aquar&ly and delyTON hair color systems are made of the highest quality ingredients, providing superior grey coverage and long-lasting colors. Each color line is supported with both national and international educational programs and training seminars by their master and award winning colorists.
IT&LY HAIRFASHION, Milan Italy's superior product detail consistently achieves unparalleled results and complete customer satisfaction by combining State-of-the-Art Technology with over 1000 years of Italian Artistic Perfection.