This holiday season, Lancôme is thrilled to announce its support of the Golden Hat Foundation, a non-profit created by beloved ambassadress Kate Winslet to raise funds to better the lives of children living with autism.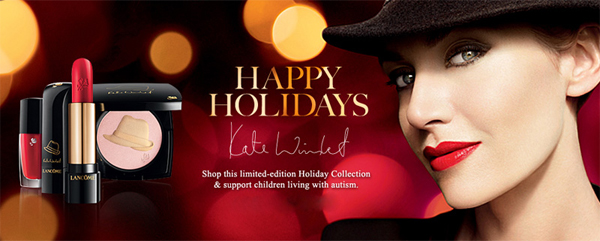 Lancôme Kate Winslet's Golden Hat Holiday 2011 Collection
"I've been thinking about setting up this project for a long time, and Lancôme's instant offer of support is a huge display of confidence and generosity," says Kate Winslet. "Lancôme has given me the strength to go all the way, and I know this will open many doors."
To raise awareness for the cause, Lancôme created a stunning holiday collection that brings to life the spirit and message of the charity. Additionally, the brand will make a donation of 150,000 Euros to the Golden Hat Foundation.
Kate's inspiration behind the foundation, check out this featured video:
The vibrant collection includes the following products:
FACE
· Poudre Lumière in Golden Hat, $40
An interpretation of the Golden Hat symbol, this all-over powder softly illuminates the face. A sheer sparkling pink shimmer adds delicate glow, while a golden hue brightens skin with a touch of light.
LIPS
· L'Absolu Rouge Lipcolor, $29
The classic, moisture-rich lipstick is blended with vitamin E and SPF 12, for plush color that wears like satin.
Shades: Caprice, Rosette, Misty Rose, Spice Pink, La Base (primer base)
NAILS
· Mini Le Vernis, $15
Five new shades in pops of pink, red and gold shimmer that perfectly complement the magnetic lipcolors.
Shades: Shade 102, Shade 26, Shade 27, Shade 28, Shade 003