HSN and Mary J. Blige are launching Mary's fragrance "My Life" exclusively at HSN this Saturday, July 31, 2010, at midnight (12 AM EST). This ground breaking launch marks the first time a fragrance My Life NEW perfume by Mary J. Blige: will be launched exclusively through a multichannel retailer. The fragrance is a first from Mary J. Blige and the first celebrity fragrance to be developed by Carol's Daughter.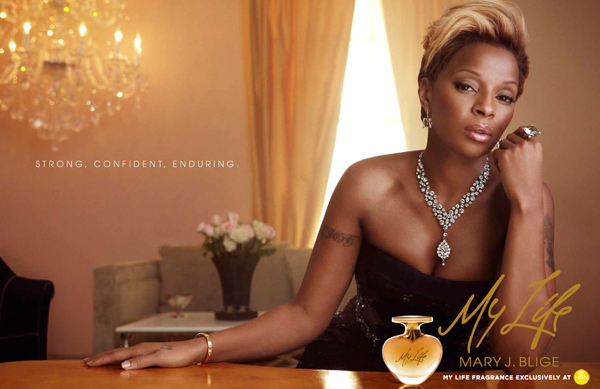 HSN has developed unique video footage only available to view at hsn.com. Watch: Mary's journey in creating the fragrance and her personal stories.
"My life is my journey and I've always shared it through my music. I can't wait to share my story with millions of women through HSN," said Mary J. Blige. "Working with Carol's Daughter on the fragrance has been an amazing experience that I will forever cherish."
My Life Mary J. Blige Eau de Parfum – $55
My Life Mary J. Blige Eau de Parum Rollerball – $25
My Life Mary J. Blige Body Lotion – $30
My Life Mary J. Blige Shower Cream – $25
My Life Mary J. Blige Shower Cream and Body Lotion Duo – $39
On-air times for Mary live at HSN: 12AM–2AM, 7AM–9AM, 10AM-11AM, 1PM-3PM, 4PM-6PM, 9PM-11PM
A portion of the proceeds of My Life will benefit the Foundation for the Advancement of Women Now (FFAWN). FFAWN was created by Mary J. Blige and Steve Stoute to help women gain the confidence and skills they need to pursue and realize their goals and dreams.
"We are thrilled to partner with Mary J. Blige and Steve Stoute to forge new ground in the beauty industry, break the existing business model of selling fragrance and leverage the power of our interactive platform to launch My Life," said Mindy Grossman, CEO of HSN, Inc. "Mary's story is inspiring to all women, and we believe our customers will identify with her confidence, compassion and perseverance."
"This partnership will break the stagnant role the fragrance industry has found itself in," said Steve Stoute. "In the truest sense of a fragrance, the emotional journey will be told directly to consumers from one of the world's best lyricists, Mary J. Blige, and the best storyteller, HSN. My Life will touch the lives of millions of women."
My Life is inspired by Mary J. Blige's life experiences outlined in her most personal work of art — her My Life album. The fragrance is a lyrical composition of florals, fruit and wood understones. It embodies her persona through feminine, beautiful and sensual notes. The premiere is strategically scheduled on July 31, 2010, during the finale of HSN's popular month-long birthday celebration. The My Life HSN "Today's Special" will include a 1.7 eau de parfum and a limited edition gold clutch. Future items include a shower cream, body lotion, and eau de parfum rollerpen. For more information, consumers may log on to www.hsn.com/maryjblige.