On Tuesday July 13th, 2010, Hollywood glamour hit the city of Atlanta in the name of charity for an intimate shopping affair at Atlanta's most talked about new shoe boutique, B Chic Shoetique. Special guest supermodel Amber Rose flew in from Los Angeles to support her friend, owner of B Chic, Rashidah Ali, at the B Charitable, B Fashionable, B Chic charity shopping soiree benefiting local women's organization My Sister's Keeper.

L to R: Amber Rose and Rashidah Ali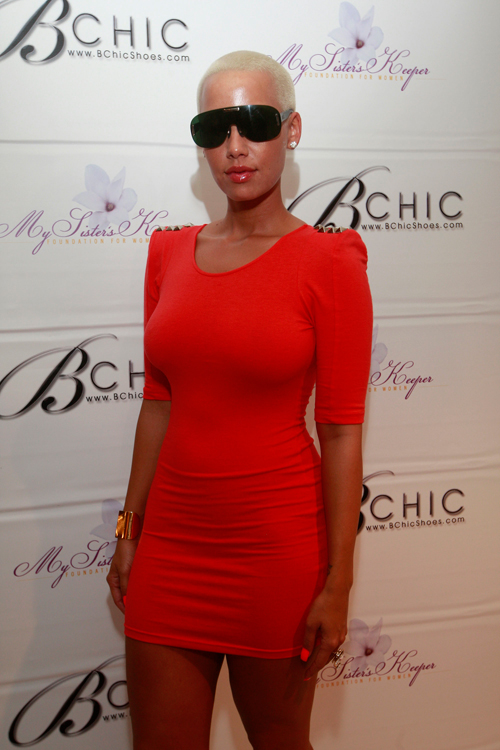 As a part of her mission to empower and celebrate women, Rashidah hosted a unique charity event at her newly opened store, located in the swank Lindberg Vista retail area. Recognizing the hard work of women within the Atlanta community, Ali invited the who's who of Atlanta to B Charitable, B Fashionable, B Chic.
Adorned in David Yurman jewels, Ali mixed and mingled with her notable guests while they shopped the store's stylish footwear ranging from brands such as Giuseppe Zanotti and Casadei to Michael Kors and BCBG Generation. In an effort to support the women of Atlanta, 10% of the evening's sales were donated to My Sister's Keeper (MSK), a local organization dedicated to empowering a diverse community of women in Atlanta with the skills they need to improve their future. Guests sipped on signature cocktails created by Horne Rum, while food from Buckhead Bottle Bar – the posh Atlanta based restaurant and cocktail house – was passed for all to enjoy. Following the event at the store, Rashidah, Amber Rose, and their close friends headed over to Buckhead Bottle Bar to celebrate the successful evening.
About B Chic Shoetique: Since opening its doors earlier this year in the Lindberg Vista retail district, B Chic Shoetique has quickly emerged as Atlanta's must-visit location for stylish yet affordable footwear. Carrying some of the hottest brands such as Report Signature, L.A.M.B., House of Harlow and Derek Lam, the shoetique offers a one of a kind experience for its clientele. Building on the success of its parent store, Bourgeoisie NYC, which carries high end, luxury footwear from around the world, B Chic Shoetique offers more cost-conscious price points without sacrificing the chic style that is the essence of the Bourgeoisie brand.
About My Sister's Keeper: The My Sister's Keeper Foundation for Women Inc. (MSK) is a volunteer-based, non-profit 501(c)(3) organization founded in 2004 dedicated to equipping a diverse community of women in Atlanta with the skills to change their lives. Their work focuses on assisting women in their educational pursuits and goals, acquisition of life skills, and personal and professional development. Through mentoring, coaching, leadership, support and love, MSK aims to empower women, giving them the tools to improve their future.