***GIVEAWAY***Read the following post and enter to WIN a signed copy of Daisy Fuentes' latest book Unforgettable You and Daisy's latest fragrance Dianoche Passion. 2 winners. USA ONLY!!! Simply leave a comment below the post and tell us why should we pick you! Good luck:)
Unforgettable You book by Daisy Fuentes. Everybody wants to be noticed and admired. They want to be unforgettable. For more than two decades, women have approached model, fashion designer, and international TV personality Daisy real for her take on what makes a person more desirable, more billable, and more bankable than others. What exactly is that "it" factor?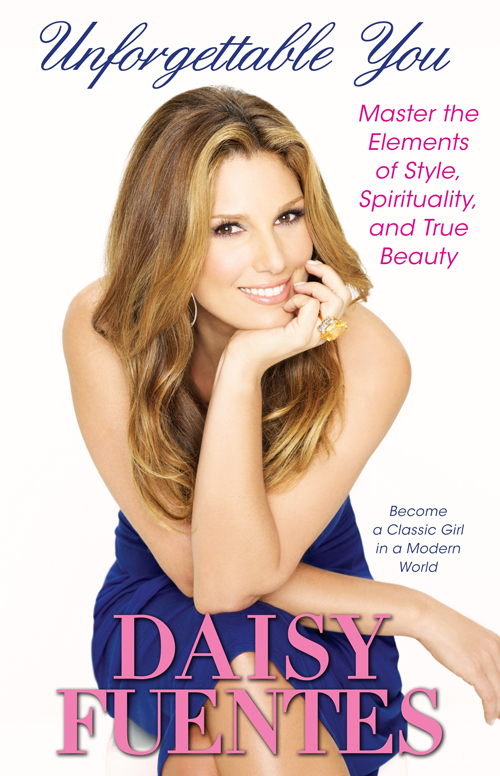 In Unforgettable You Daisy is revealing tips that she has learned from her life in and out of the spotlight and from other celebrities and experts, Daisy shows you how to perceive yourself honestly and accurately. Only then can you feel and look absolutely irresistible, with a head-turning walk and a million-dollar smile.
Unforgettable You helps you to become the very best version of yourself. Daisy breaks her approach down to easy-to-follow areas on which to focus your improvements: inner reflection, etiquette, relationships, sex, spirituality, and beauty. By the end of this book, you'll know Daisy better, but most important, you'll know yourself better and you will be armed with all the tools you need to be unforgettable—from the inside out. Available on www.amazon.com
Introducing the latest Daisy Fuentes fragrance Daisy Fuentes Dianoche Passion. Warm and Intriguing by day yet deep and sensual by night, Dianoche Passion captures all the emotions passion evokes. Housed in Daisy's signature fragrance bottle: a single presentation that holds two different scents, Dianoche Passion reveals all the layers of passion from infatuation to deep desire. In both the day and night fragrances, the key ingredients of patchouli and amber bring to life the essence of true passion.
Day
The Day fragrance opens with a bed of delicate pomelo flowers surrounded by sumptuous blood orange zest and red berries for a rich bouquet of floral decadence. At the heart, the intoxicating scent of white peony, highlighted by exotic, purple vanilla orchids and violet petals unearths an intriguing, mysterious sensuality. Seductive scents of patchouli, glowing amber, and warm sandalwood ignite together on the skin, releasing a lasting impression of fiery passion and intense emotion in the dry down.
Night
The deeper, sultrier Night fragrance also opens with a bouquet of pomelo flowers enveloped by an explosion of blood orange zest and succulent red berries. At the heart of the fragrance lies enticing crimson red roses, shadowed by velvety, white peony and an intoxicating breath of deep violet petals. Glowing deep amber and patchouli lingers beneath, further revealing creamy sandalwood. A fiery spark of exotic frankincense unites this fragrance in warmth and seduction, releasing its lasting rich scent and the deepest passions of the heart.
Dianoche Passion is available at Kohl's Department Stores nationwide and at Kohls.com for a retail price of $42.50
Secret: Daisy Fuentes is Marta Walsh's inspiration.