A refined beachside campsite served as the inspiration for the Perry Ellis spring 2012 campaign, which was released on Tuesday, February 7th. Featuring noted models Tom Bull and Kate Bock, the campaign was shot in Malibu, California and highlights spring collection's polished and refined suiting as well as knitwear.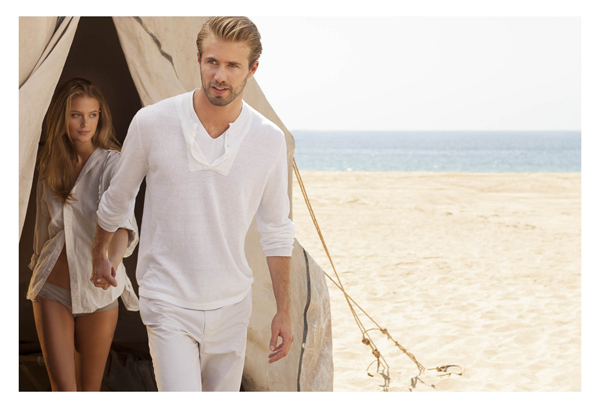 Perry Ellis Spring 2012 Campaign
Perry Ellis
The inclusion of a female model marks a new direction for Perry Ellis' advertising, which has traditionally been male-focused. The campaign features Tom Bull, who also opened the Perry Ellis spring 2012 runway show in September at New York Fashion Week, lounging with model Kate Bock. Bock will also be featured unaccompanied in Perry Ellis Swim advertising.
The spring 2012 collection was inspired by an American safari in the "Painted Desert," which reflects the soft sun-baked color palatte with deliveries such as Sedona, indigo blue and white sands.
"Dusty blues, yellow and corals accent the dynamic linens we are offering which can be found in suiting as well as sport shirts," said Doug Jakubowski, Chief Merchandising Officer. "The linen throughout the collection is treated in many ways such as washed and chintzed finishes.
The campaign launches mid-February and will be seen on outdoor advertisements and fashion books – including GQ, Vanity Fair, Esquire, Men's Health, Out, Gotham, LA Confidential, and Ocean Drive. Perry Ellis Swim advertisements will be featured on outdoor advertisements and in select publications.