On the occasion of the release of her debut album, The Ghost Who Walks, model Karen Elson appears with her husband, Jack White, in the June 2010 issue of VOGUE. Shot by Annie Leibovitz in the couple's hometown of Nashville, this feature marks the first time Elson and White have been photographed together for publication.
On the occasion of her debut album's release, Karen Elson and Jack White agreed to be photographed together for the first time. She wore charming vintage-look dresses. (He wore a top hat.). By Jonathan Van Meter.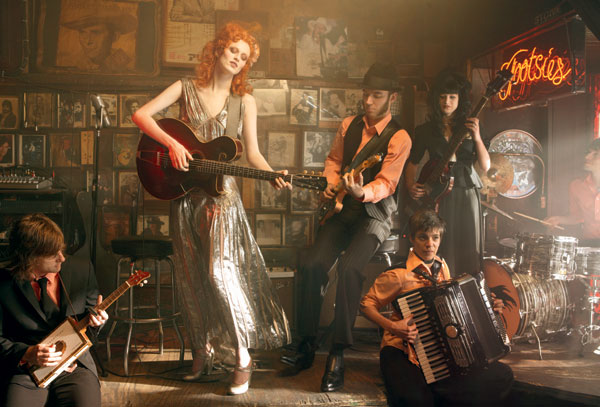 On a very rainy, very London kind of morning in Manhattan, Karen Elson, a spidery vision in a peach gossamer shrug and black leggings, is sitting in the Breslin at the Ace Hotel, drinking strong coffee and eating buttered toast. "I'm really English," she says, almost apologetically. "I don't like the crust." She was kept up last night by guests partying in the room next door, but she is not complaining, because that is not her style. Besides, when she is in New York, where she lived for ten years, Elson prefers a groovy vibe. "At some hotels," she says, "I feel like I have to be dressed to the nines—perfectly eccentric—to walk out the door. This place feels like home. Read full article in Vogue.com
About the Author
I am one of the top fashion and beauty bloggers in the world also a Luxury Paradise Valley and Scottsdale REALTOR with Russ Lyon Sotheby's International Realty.