June 19th marks the date that Mr. Shu Uemura would have turned 80. The following is Talking Makeup's tribute to the legendary Mr. Shu Uemura. It is a brief biography describing Mr. Uemura's beginnings and journey to becoming one of the world's most brilliant makeup artists.
Mr. Shu Uemura  Biography (1928-2007).
Shu Uemura is above all else, a pioneer. As one of the first Asian make-up artists to gain fame in the West, he sought out to do something that nobody else had tried.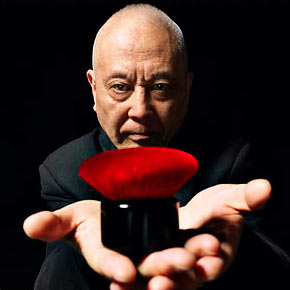 shu uemura.
Born in 1928, his childhood dream of becoming an actor was crushed in his late teens by the onset of a severe illness that left him with a weakened constitution. Recognizing that this would rule him out of future acting roles, he searched for a vocation that would be less physically demanding, but allow for equally creative expression. Always fascinated by conceptions of beauty, the young Shu Uemura resolved to become a make-up artist, and enrolled at Tokyo Beauty Academy – the only man in a class of 130.
His big break came in 1955 when a make-up artist from the set of Joe Butterfly, a Hollywood production being filmed in post-war Tokyo, came to the beauty school in search of a male assistant; Shu Uemura's career as a make-up artist had begun.
After several years creating the onscreen faces of Hollywood stars, Uemura became a stateside sensation when he transformed Shirley MacLaine into a geisha for the 1964 movie My Geisha. He was a particular favorite of Frank Sinatra; during the shoot of Only the Brave, Sinatra presented him with an elaborate make-up box inscribed with the words shu shu baby for his birthday.
He returned permanently to Japan in 1965 and established the Shu Uemura Make-up Institute, the first Hollywood style make-up studio in Japan. He also brought home a number of US cosmetic products unknown to Japan, often distributing them to his students. To satisfy soaring demand, in 1967 Shu Uemura opened Japan Make-up Inc. officially importing American make-up products to Japan as a business.
In 1968, the beauty world recognized him for creating the first Mode Make-up, a revolutionary concept in make-up design as artistic expression. His fame rose dramatically after staging a series of large-scale make-up shows, attended by thousands of industry professionals and make-up devotees. To meet his stringent standards of beauty and skincare, he established JM Laboratories Inc. in 1971 and initiated the in-house production of skincare products. In 1983, he opened the first Beauty Boutique in Tokyo's upscale Omotesando district, followed by an award-winning boutique in Saint-Germain-des-Prés, Paris in 1986. From 1986, he actively expands the international presence of his boutiques with openings in New York, Los Angeles, Taiwan, Milan and London.
Over the years, Shu Uemura has gained international recognition as being at the cutting edge of the cosmetics industry. In 1998, the launch of DEPSEA WATER was the first time deep sea water had been incorporated into a skincare product garnering his worldwide acclaim and numerous awards . "Muroto Factory Museum," opened in 1999 in Muroto City, Kochi Prefecture, was developed in response to the overwhelming success of DEPSEA WATER as a source of deep sea water. He also opened "Shu Uemura Atelier Factory 1999" in Odaiba, Tokyo, in 1999 combining factory and boutique to create bespoke colors of cosmetics tailored exclusively for individual customers.
The brand partnered with the L'Oréal group in 2000 pioneering a new chapter in beauty for the 21st century. tokyo lash bar, opened in shu uemura counters worldwide in 2005, is a modern cosmetics play-space that opened the make-up palette to customers and introduced the launch of annual false eyelash collections. In 2006, revolutionary lipstick collection rouge unlimited incorporated ground-breaking hybrid pigments enabling precision color-range creation never before achieved. The 2007 launch of phyto-black lift, the first anti-aging skincare line based on the power of black phyto-ingredients, was followed by the launch of Art of Hair, shu uemura's first professional hair care line.
Shu Uemura has been at the helm of cutting-edge cosmetics by fusing the science and art of beauty into an inspired business. Usage of the latest technologies with natural extracts into his products and constant innovation in the fields of make-up research and skin care formulas, as well as retail and package aesthetics, he will remain a pioneer that continues to break boundaries in beauty creation.