Celebrity Makeup Artists used CHANEL Makeup to create looks for Kate Bosworth and Brit Marling & Celebrity Manicurists applied CHANEL Le Vernis nail colour to Kate Hudson.
KATE BOSWORTH ~ MAKEUP BY CHANEL CELEBRITY MAKEUP ARTIST KATE LEE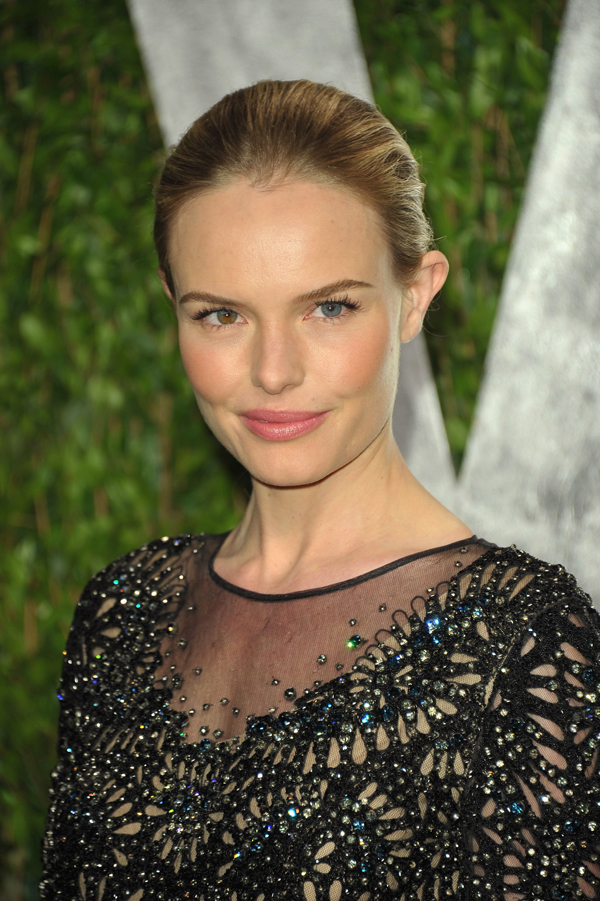 Kate Bosworth's Makeup Oscars 2012
MAKEUP INSPIRATION Kate Bosworth's Her dress!
PRODUCTS
Skincare: I prepped Kate's skin with CHANEL Hydra Beauty Serum ($135.00, Available April 2012), then applied a layer of Laura Mercier Iluminizing Face Primer.
Eye Shadow: On her lids I applied CHANEL Soft Touch Eye Shadow in Rose de Mai ($28.50), for a natural, pretty look.
Eye Brows: Her brows were groomed with Anastasia Brow Gel.
Foundation: I used CHANEL Perfection Lumiere Long Wear Flawless Fluid Makeup SPF 10 ($55.00) to perfect Kate's perfect skin.
Blush: On her cheeks I used CHANEL Powder Blush in Orchid Rose ($43.00), and on the upper planes of her face, cheek bones and bridge I applied CHANEL Poudre Douce Soft Pressed Powder in Rose ($50.00).
Mascara: I curled the lashes with the CHANEL Precision Eyelash Curler ($34.00), better than the best! And completed the eyes with CHANEL Inimitable Mascara in Noir ($30.00), gently brushing through top and bottom lashes.
Lipstick: For Kate's lips I applied CHANEL Rouge Coco Shine Lipshine in Aventure ($32.00), to finish the look.
BRIT MARLING ~ MAKEUP BY CELEBRITY MAKEUP ARTIST DARLENE JACOBS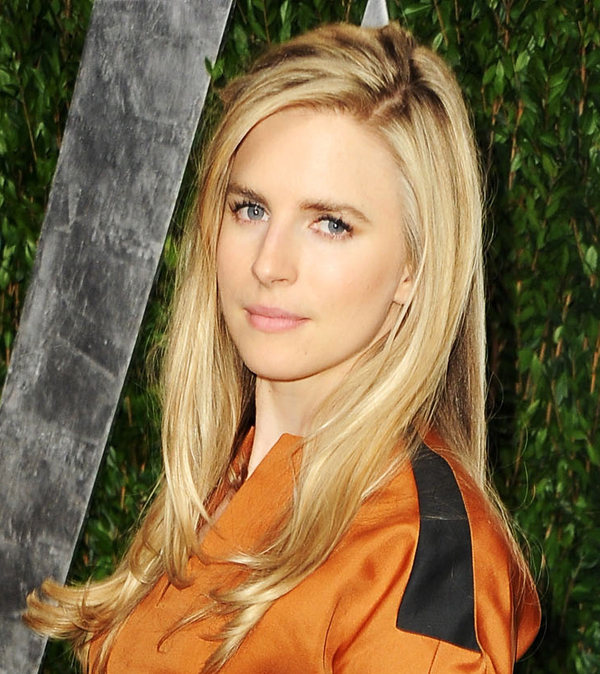 Brit Marling Makeup Oscars 2012
The Inspiration for Brit is always Brit herself. We always want to keep her looking true to herself while making sure to compliment the dress. Brit really likes to feel like she looks like herself and doesn't look made-up or made-over. The most important aspect of achieving this is making sure the skin looks like real skin. A heavy eye or a dark lip always look most beautiful to when the skin looks fresh and authentic.
PRODUCTS
Skincare: I started Brit's look with CHANEL Purete Ideale Serum ($75.00) on clean skin. This helps keep shine down on the red carpet with all the flashing lights as well as tightens pores so the makeup stays looking fresh throughout the long evening. I followed this with a light moisturizer that I really massaged into the skin. Massage stimulates blood circulation, helps the skin to absorb the benefits of the skincare, warms up the skin for better makeup application, and, perhaps most importantly, relaxes the talent! Protecting the delicate eye area was next with CHANEL Beaute Initiale Eye ($70.00). Because the skin around the eye is thinner than that on the rest of the face it always needs more protection. Beaute Initiale Eye is great because it softens the skin around the eye area allowing for the makeup to glide on rather than pull at the skin. At the same time, it really sinks in and doesn't leave a film on the eye area that causes concealer to crease or mascara and eyeliner to run. I finished off Brit's skincare with CHANEL Ultra Correction Lift Plumping Anti-Wrinkle Lips and Contour ($85.00). Soft lips are imperative to a beautiful color application weather you're using lipliner, lipstick, or gloss. I specifically like Ultra Correction Lift Plumping Anti-Wrinkle Lips and Contour because it absorbs into the lips and keeps color from feathering.
Foundation: After all of the prepping of the Brit's skin it was ready for CHANEL Perfection Lumiere Long Wear Flawless Fluid Makeup SPF 10 ($55.00) which evened out her skin tone. I initially applied it with a foundation brush to keep the distribution to the areas that needed it most, and followed up by really working in the foundation with my fingers. I find working foundations in with my fingers gives it the most real texture.
Hightlighter: To highlight her skin, I applied CHANEL Limited Edition Natural Finish Pressed Powder in Jasmin ($45.00).
Eye Liner: For Brit's look I focused on just lining the eyes, using CHANEL Automatic Liquid Eyeliner in Noir ($34.00).
Mascara: To finish the eye look, I then added two coats of CHANEL Inimitable Waterproof Mascara in Noir ($30.00).
Lipstick: I finished her look by applying CHANEL Aqua Crayon Lip Colour Stick in Cognac ($26.00) all over the lip.
KATE HUDSON ~ FINGERS & TOES PAINTED BY CELEBRITY MANICURIST ASHLIE JOHNSON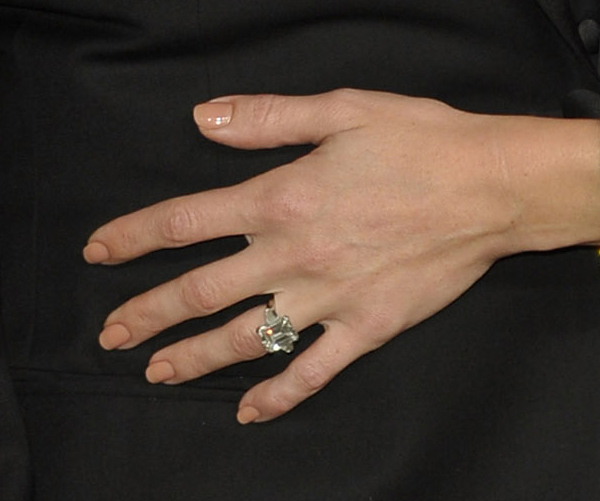 Kate Hudson's Nail Polish Oscars 2012
Since her dress was a vibrant red, Hollywood vixen style, we didn't want the hands to be too matchy-matchy. So we chose CHANEL Nail Colour in Rose Cache because its almost skin color but has a beautiful sheen to it still. She never had that color before and really loved it. On the toes we decided it would be beautiful to match the dress so if a toe showed you would get a little pop of color. Kate is also very into fun bright colors and red in particular, so even after the party she will get to keep it awhile.
PRODUCTS
CHANEL Nail Colour in Rose Cache ($26.00) on fingers
CHANEL Nail Colour in Rose Carat ($26.00) on toes
All products are available on chanel.com