CHANEL redefines luxury once again with the opening of Espace Parfum within Bloomingdale's 59th Street flagship store in New York City. The unique retail concept offers an intimate setting for customers to experience an unparalleled level of service as they take an interactive olfactive journey through CHANEL fragrance.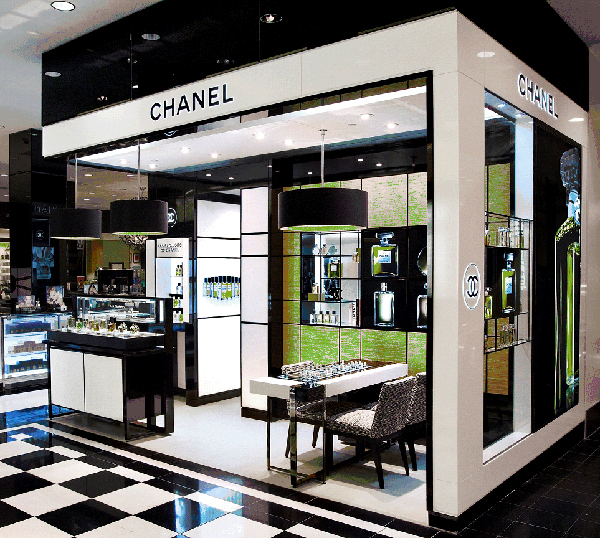 CHANEL ESPACE PARFUM OPENS AT BLOOMINGDALE'S 59th STREET
An olfactory oasis set within a large department store, Espace Parfum invites customers into the world of CHANEL fragrance to indulge in the luxury of a private consultation room devoted to fragrance. Designed by CHANEL Deputy Perfumer Christopher Sheldrake, the Olfactive Bar houses the 51 fragrances that comprise the entire range of CHANEL perfumery including limited-distribution fragrances like the Les Exclusifs collection, as well as Chanel N°5, Coco Mademoiselle and Bleu de CHANEL. "Once again, CHANEL has set a new standard in luxurious experience," says Howard Kreitzman, Bloomingdale's VP/DMM of Cosmetics & Fragrances. "We are thrilled to be able to offer our loyal shoppers the opportunity to experience the world of CHANEL fragrance in this extraordinary setting."
A fragrance expert with extensive CHANEL fragrance training who has spent three weeks at L'Institut Supérieur International du Parfum, the premiere fragrance institute in France, will be on hand every day at Espace Parfum to share stories about the brand's history, inspiration, raw ingredients and the notes of each fragrance. During client consultations, the expert will use patented ceramic blotters, which capture the essence of each fragrance and help customers determine their perfect scents.
"Since the creation of CHANEL N°5, our preeminence in the world of fragrance can be attributed to our rich heritage of 'in-house' master perfumery, and the quality of our laboratories and exclusive sources for raw materials," says Christine Dagousset, executive vice president, CHANEL Fragrance and Beauté. "As an experience, Espace Parfum reveals a wealth of information about fragrance, about how to wear scent, and about one's own nature. It is the very quintessence of luxury and is yet another example of how CHANEL continues to be the global leader in fragrance."
Espace Parfum at Bloomingdales 59th Street is the second Espace to open in the United States, and the 32nd in the world.