Revlon's Global Artistic Director Gucci Westman creates a sultry look for Claire Danes at the 2010 MET Ball. The Makeup Look: Gucci Westman creates a metallic grey, extended smokey eye for Claire Danes, giving her an edgy look at this year's Met Ball.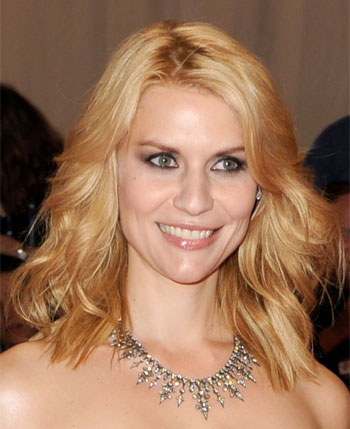 How To Get The Look: Makeup Tutorial
1. Line the top and bottom lids with Revlon ColorStay Liquid Liner in Black to give it an 'edgier' look.
2. Apply Revlon ColorStay 12 Hour Eye Shadow in Sultry Smoke to lids for the smokey eye effect.
3. Perfect the look by rimming the inner, upper lids with Revlon Luxurious Color Eyeliner in Black.
4. For dramatic lashes, like Claire's, use Revlon Grow Luscious by Fabulash in Black.
5. Fill in brows with Revlon Brow Fantasy Pencil in Dark Blonde.
6. To accentuate your great features use an illuminator, such as Age Defying Spa Face Illuminator in Pink Light. It adds just the right amount of subtle sheen –Apply this to the top of cheek bones, bridge of nose and cupid's bow above the lips-That's a great trick.
7. Use Revlon Powder Blush in Tawny Peach and blot the T-Zone area with Revlon PhotoReady Powder in a fair shade.
8. Finally give your lips a pop of color with Revlon Super Lustrous Lipgloss in Pink Pop from Gucci Westman's Day Dreamer Collection.
Eyes:
Revlon ColorStay Liquid Liner (Black): $7.39
Revlon ColorStay 12 Hour Eye Shadow Quad (Sultry Smoke): $6.99
Revlon Luxurious Color Eyeliner (Black): $9.99
Revlon Grow Luscious by Fabulash (Black): $7.49
Revlon Brow Fantasy (Dark Blonde): $7.50
Face:
Age Defying Spa Face Illuminator (Pink Light): $13.99
Revlon Powder Blush (Tawny Peach): $9.79
Revlon PhotoReady Powder (Fair/Light): $12.99
Lips:
Revlon Super Lustrous Lipgloss (Pink Pop): $6.99
Products are available at www.revlon.com