Drew Barrymore is looking better than ever these days and I attribute it all to her long hair. It makes a huge difference! Well, her October 2010 Harper's Bazaar cover is no exception.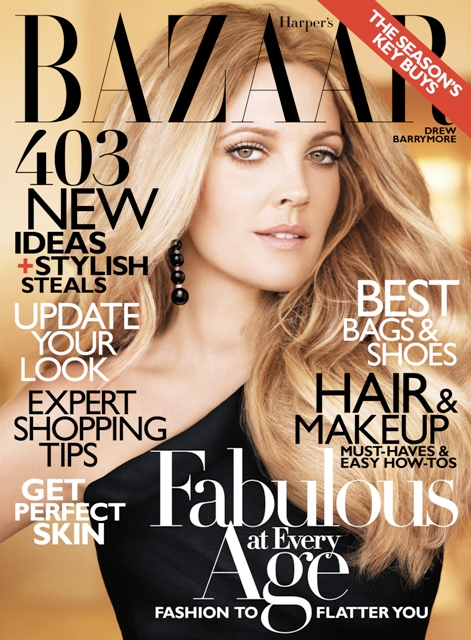 Marta Walsh has the scoop on how to get Drew Barrymore's haircolor on the cover of Harper's Bazaar Cover October 2010! Tracey Cunningham, Redken Creative Consultant for Color created the popular, rooty look so perfect for Drew and anyone else with that fun, flirty personality.
To achieve this color, Tracey applied Redken Color Fusion 7N at the roots and highlighted with Redken Blonde Icing Ammonia Free Conditioning Cream Lightener. She then followed with a Redken Shades EQ Conditioning Color Gloss to give it a natural, beachy look.
Redken Color Fusion is a modern, permanent color cream that delivers healthy-looking, multi-dimensional haircolor. Colorbond Technology infuses Color Fusion's signature multi-dimensional color with optimum durability, condition and shine.
Blonde Icing Conditioning Crème Lightener is ammonia free and lifts hair up to 7 levels while exclusive Lumisilk Technology smoothes and preserves hair's structure to keep it healthy, shiny and strong
Shades EQ is a demi-permanent color which provides healthy, shiny results, incredible conditioning with an amazing number of mixing possibilities. Shades EQ is used as a glaze, color refresher, and also color correction. Ingredients include acidic pH; no lift, non-ammonia formula; long-lasting colorants; wheat amino acids, and silicon.
Check out Redken's Color Glossary to brush up on color terms so you and your colorist can have an informed conversation.