Introducing Casa di Francesca: A Luxury Home Fragrance Collection.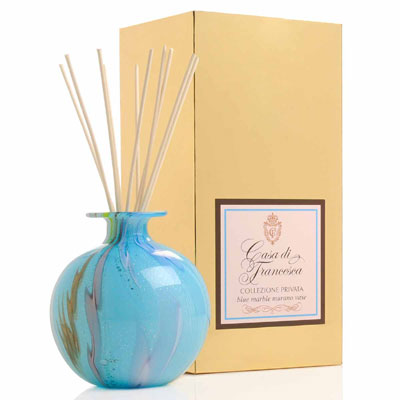 Casa di Francesca, a new home diffuser collection that captures the essence and aromas of Old World Italy. This unique fragrance collection was inspired by Francesca, a true Renaissance woman, and one of the few women to tour Europe via the Grand Tour in the late 1600's. With Francesca's story in her heart, Designer, Katie Borghese created Casa di Francesca, inspired by both the storied Italian lineage of her family, the Borghese's, and Katie's love of art and travel.
Inspired by the four seasons, Casa di Francesca brings Old World European excellence to homes through an array of Italian-made diffuser fragrances and hand crafted accessories. Casa di Francesca makes these exotic scents attainable without ever having to leave the comfort of your own home. Katie has also created the Casa di Francesca Murano Glass Diffuser Set, inspired by one of Francesca's most unforgettable memories – her trip to the beautiful island of Murano. Reminiscent of the great glass artworks of Italy and famous throughout the world for the brilliance and ingenuity of its hand blown glass, this enchanting Murano vessel is a luxurious addition to any home.
Casa di Francesca Home Fragrances include:
Bulgarian Primrose
Casablanca Lily
Cashmere Musk
Cedar Wood Vanilla
Cinnamon Stick
Cut Flowers
Deep Lilac
Eggnog Spice
English Gardens
English Leather
Gardenia Di Provence
Home for the Holidays
Honeysuckle & Night
Blooming Jasmine
Hyacinth
Italian Linen
Madagascar Vanilla
Magnolia
Mediterranean Lavender
Moroccan Amber
Mountain Paperwhite
Orange Blossom
Persian Violet
Peony
Peppermint Pine
Persian Violet
Pure Pear
Pineapple and Wild
Jasmine
Rosemary & Mint
Sicilian Pink Grapefruit
Summer Breeze
Tuscan Peach Blossom
Versailles Tuberose
Warm Apple Cider
White Lotus Blossom
Wild Forest Honey & Cream
The Casa di Francesca Starter Kit includes a beautiful Italian glass diffuser bottle with a separate 200ml plastic bottle containing the delightful Casa di Francesca fragrance of your choice. $24.50
The Refill Set includes a 300ml plastic bottle containing the delightful fragrance along with 10 reed diffuser sticks. $19.50
The 500 ML Diffuser Set includes a beautiful Italian glass diffuser bottle with a separate 500ml plastic bottle available in the below fragrances. $39.95
Available at www.HSN.com