Yesterday, April 13th, 2010, Kelly Ripa teamed up with Electrolux, maker of eco-friendly, ENERGY STAR qualified appliances, to host her first-ever live Webcast in support of Earth Day and Global Green USA. As part of the exchange, known as the first-ever "Green Idea Swap," Kelly took questions from a live Web audience with the help of three eco lifestyle experts: Josie Maran, creator of her own eco-friendly makeup line; Zem Joaquin, founder and CEO of Ecofabulous; and Anna Getty, green living and holistic lifestyle expert.
"Eco is so much more than recycling these days," said Ripa. "These women prove that you don't have to sacrifice style to go green. From your makeup routine to your laundry room, you can make small changes that can add up to make a big difference."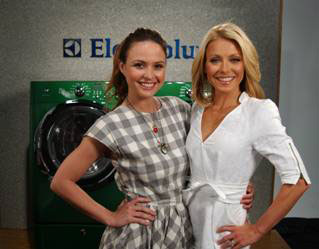 The "Green Idea Swap" continues at www.Kelly-Confidential.com. Each time someone swaps an eco idea, Electrolux donates $1 to Global Green USA, a non-profit organization dedicated to fostering a global value shift toward a sustainable and secure future.
To help spread the word, everyone who swaps an idea will be entered for a chance to win an eco-friendly Kelly Green washer and dryer. Gentle on the environment and your clothes, Electrolux washers are up to 83% more energy-efficient and use 56% less water.
Electrolux is the only major household appliances company included in the most recent Dow Jones Sustainability World Index. As part of its company-wide "Green Spirit" initiative, Electrolux committed to improving the energy efficiency of its operations by reducing total energy use 15% by the end of 2009[3]. Having achieved that target a year ahead of schedule, the company announced it will cut energy use an additional 15% by 2012.