In honor of Earth Day, Kiehl's Since 1851, the venerable New York-based purveyor of fine quality skin and hair care is pleased to announce a Limited Edition Label Art series, where 100% of net profits up to $200,000 will benefit the Rainforest Alliance, dedicated to conserving biodiversity and ensuring sustainable livelihoods.
Julianne Moore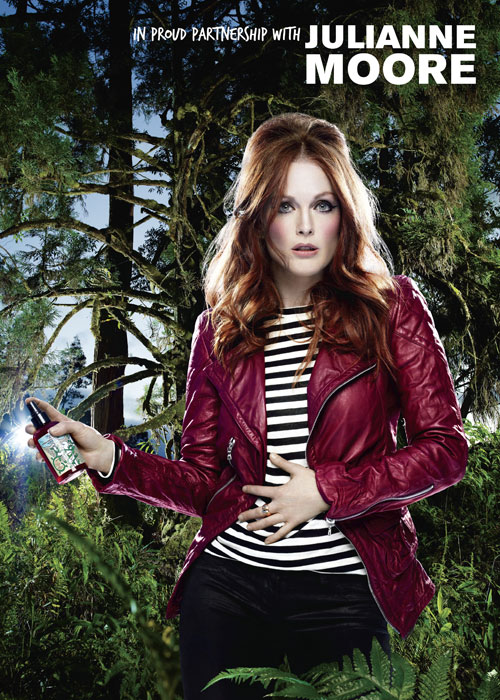 To commemorate the philanthropic success of "Friends of Kiehl's" Earth Day 2009 – which raised $100,000 for WATERKEEPER ALLIANCE – the company is striving to double the donation by raising $200,000 for the Rainforest Alliance. To support the launch, celebrity photographer David LaChapelle captures each personality, Julianne Moore, Jeff Koons, Malia Jones, and Pharrell Williams in his/her unique style.
Staying true to Kiehl's longstanding mission of supporting initiatives to help preserve and protect the environment, four "Friends of Kiehl's" have created Limited Edition labels for 100% natural and ECOCERT- certified organic, Açaí Damage-Protecting Toning Mist.
Utilizing a high concentration of super-antioxidant Organic Açaí Berry from the Brazilian Amazon, and combined with Aloe Vera, Lavender and Rosemary Essential Oils, the anytime toning mist refreshes and soothes skin, while providing a sheer layer of antioxidant protection against environmental aggressors. The Limited Edition series features socially conscious influencers from all walks of life – an Actor, a Musician, an Athlete and an Artist – depicting their vision of social responsibility.
About the celebrities photographed by David LaChapelle for the Kiehl's Earth Day Project:
Julianne Moore has appeared in over 40 films. She has received a Daytime Emmy Award, four Academy Award Nominations, and six Golden Globe Nominations, most recently for A SINGLE MAN. Her upcoming films are CHLOE and THE KIDS ARE ALRIGHT. Julianne is a strong supporter of family and earth friendly philanthropic causes, including Save the Children. As an advocate for eco-consciousness Moore is a vocal ally for using natural ingredients in consumer products. To highlight her passion for the environment, Julianne's label depicts a joyful soul engaging in the pleasures of the outdoors surrounded by heart shapes; a metaphor for "love the earth." Moore lives in New York City with her family.
Jeff Koons
One of the foremost internationally recognized contemporary artists of our time, Jeff Koons earned renown for his iconic sculptures such as Rabbit (1986), Michael Jackson and Bubbles (1988) and his public sculptures, such as the monumental floral sculpture Puppy (1992), shown at Rockefeller Center and permanently installed at the Guggenheim Bilbao. Another floral sculpture, Split-Rocker (2000), was installed at the Palace of Versailles in the summer of 2008; the first time the esteemed location opened its doors to a living artist. Koons' work is showcased in the public galleries of the most highly-regarded museums around the world and he has received numerous awards and honors in recognition of his cultural achievements. Most recently, the Royal Academy of Arts presented Koons with the Wollaston Award and the John Singleton Copley Award and President Jacques Chirac promoted Koons to Officier de la Legion d'Honneur. A staunch supporter of many philanthropic causes leading to creation of The Koons Family Institute, a resource of the International Centre for Missing and Exploited Children, Jeff is also a lover of nature spending time at his family farm in Pennsylvania. Jeff has always had a relationship with readymade objects and also experimenting with reclaimed materials in some of his works. Using his iconic balloon sculptures, Jeff's label takes its inspiration from the sustainable ingredient – ACAÍ – that is used in the creation of the product for which the label adorns. Koons was born in York, Pennsylvania and studied at the Art Institute of Chicago and the Maryland Institute College of Art; the latter from where he received his BFA. He currently lives and works in New York City.
Malia Jones
Spending her entire life close to the ocean, Malia was raised in Hawaii and started surfing from a young age. Jones began surfing competitively in her early teens and at age 15, won the girls division of the United States Amateur Surfing Championship. While her surfing career was on the rise, Malia's natural beauty was instantly recognized and a second career in modeling transpired. Although many know Jones for her external beauty – she has been named one of the "50 Most Beautiful People" by People magazine, and one of America's "10 Sexiest Athletes" by Esquire – Malia is passionate about sustaining the world in which we live. In Hawaii, where she spends most of the year, Jones supports many local socially conscious causes and lives a healthy and organic lifestyle. Malia's mantra has always been that 'Little changes make big differences' and she leads by example for those around her. Inspired by a print she did for one of Malia's swimsuit collections, German graphic designer Katrin Wiens designed Malia's vibrant label, which was inspired by the wildlife in the Amazon rainforest.
Pharrell Williams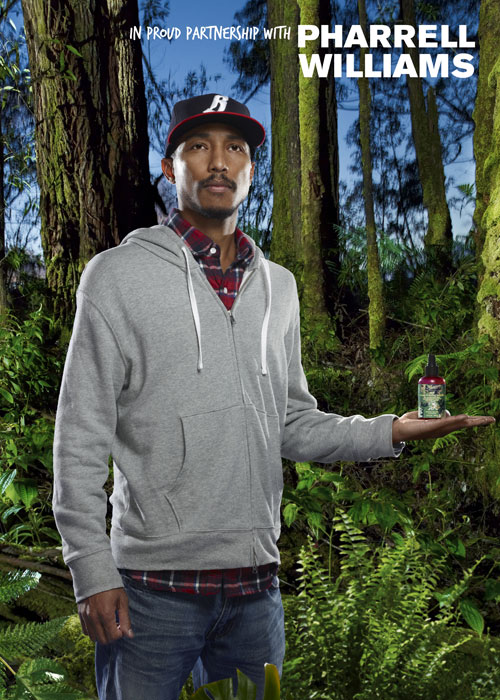 Pharrell is an American recording artist, producer, musician and fashion designer. Along with Chad Hugo, they make the record production duo The Neptunes and produce pop, hip hop and R&B music. He is also the lead vocalist of rock band N.E.R.D., which he formed with Hugo and childhood friend Shae Haley. As part of The Neptunes, Williams has produced numerous hit singles for various music artists including Britney Spears, Justin Timberlake, Snoop Dogg and Shakira. The Neptunes have earned three Grammy Awards amongst ten nominations. Pharrell is also the co-founder of the clothing brands Billionaire Boys Club and Ice cream Clothing. Over the last couple of year, Pharrell has also started to design furniture with the famed Emmanuel Perrotin Gallery and even collaborated on a sculpture with Takashi Murakami which was shown and sold at Art Basel this past June. As an environmental activist, Pharrell formed textiles manufacturer Bionic Yarn, a company that creates premium yarns and fabrics made with fibers derived from plastic bottles. Building on his own personal image, Pharrell loves camouflage but never liked the negative aspect of it since it is often connected to war. Using this as his label inspiration, Pharrell altered the camouflage pattern to incorporate numerous images – many of them inspired by the rainforest – into the overall label design.