Loving the NEW Lancôme rénergie eclat multi-lift. I use it right after my serum or day cream. It hydrates my skin even more and covers the redness after shower or washing my face. I then use a dub of my favorite foundation or powder foundation and done. Or you can skip the foundation and go straight to powder. Consider this as a tinted skincare or tinted moisturizer.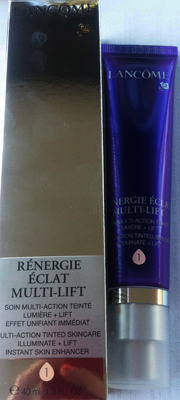 Lancôme creates its 1st lifting and color-correcting skincare enriched with Multi-Tension technology
"Rénergie Éclat blends into the skin seamlessly," says celebrity makeup artist Sandy Linter, Lancôme's Beauty at Every Age Expert. "It's especially wonderful for women who don't enjoy using foundation. Their skin will have a polished glow, which does not feel like makeup to the wearer but helps the skin look finished. It also wears very well for such a lightweight product."
The NEW Lancôme Rénergie Eclat Multi-Lift comes in 4 shades. #1 tones down redness. #2 reduces dullness. #3 diminishes olive tones. #4 banishes grey tones. $75. Available from April 2012.