Celebrities like Rihanna are revamping their style with a bold burst of contrasting color. The instant, hair makeover is a perfect way to accessorize your look for a night out on the town. "Because not every girl is ready to commit to high-contrast color permanently, trying it on with temporary color is a great option," says co-owner of Ted Gibson Salon, Jason Backe. "A surefire way to get the look at home is with the TouchBack Marker, a mistake-proof formula that delivers true, temporary hair color instantly."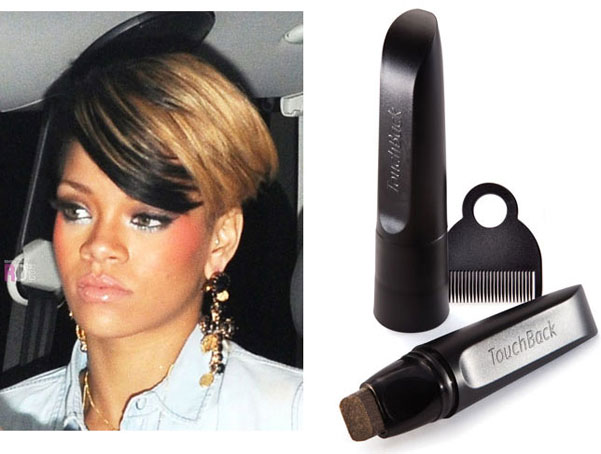 TouchBack's pocket-sized marker makes for easy application when you want it, where you want it. Unlike mascara, crayons, gels, and powders, TouchBack won't flake or rub off with brushing. TouchBack bonds to the hair and stays true until shampooed out.
Although this genius product was developed to cover gray, it can also be used for a creative application like Rihanna's. To get this look, Jason recommends creating a triangle shape with the tip under your crown and the 1-2 inch base following your hairline—make sure the triangle section is about ½ inch under your part. Take a shade of TouchBack that is at least two levels darker than your base (if you're a medium blonde, use light brown or darker; if you're a medium brown, use black, etc.) and color the triangle in from root to tip. When TouchBack has dried, style your hair as usual.
WHAT IT COSTS: $29.95
WHERE TO FIND IT: www.TouchBackGray.com and all Ulta stores.