Industry icon and media personality Tyra Banks Selects IMG for commercial endorsements and fashion related opportunities.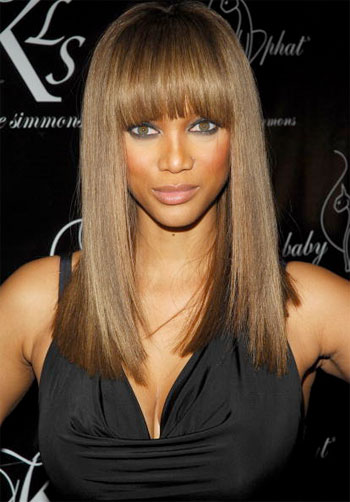 IMG announced today, May 20th, 2010, that media mogul and personality Tyra Banks has joined the company for commercial endorsements and fashion related opportunities. The announcement is the first of several expected in the coming months concerning new partnerships between IMG, Banks and Banks' business interests.
"Tyra is a global brand and we are happy to welcome her back to the IMG family", said Ted Forstmann, Chairman and CEO of IMG. "Her global reach and dynamic personality create numerous opportunities across multiple platforms."
"In many ways, this is like coming home. The last time I was with IMG, I was set on taking on the modeling world in the high fashion and commercial sectors," said Tyra Banks, Founder and CEO of Bankable Enterprises. "Now I'm dreaming even bigger but this time for my company as well. Aligning myself with brands that I believe in, and helping them achieve the kind of success they're looking for, helps all of us as we grow our businesses. And I know IMG is the right place at the perfect time."
"IMG is proud to work with Tyra, one of the world's most iconic supermodels and media personalities, and it is our pleasure to welcome her back,‰ said Ivan Bart, SVP and Managing Director of IMG Models Worldwide. "She has an immense and loyal following, and we are thrilled with the opportunity to partner with her as she embarks on a new and exciting period of brand-building. IMG will help expand her relationships with companies through endorsements, and will assist her in developing business relationships with sponsors whose missions she feels strongly about."
Banks' Bankable Enterprises is a New York-based company creating programs for television and movies, as well as projects for publishing and digital media. Recently, Banks announced a deal with Random House for a series of young adult novels called Modelland and she announced plans for a new digital web portal. Tyra Banks is also the creator, executive producer and host of The CW's reality television show America's Next Top Model, a co-creator of ABC's True Beauty, host of her own talk show, The Tyra Show, and she has new television projects in active development.
Banks began her modeling career in high school and went on to grace the catwalks for designer's such as Chanel, Christian Dior, Dolce & Gabbana, Donna Karan, Isaac Mizrahi, Michael Kors, Armani, Calvin Klein, Ralph Lauren, Oscar de la Renta, Tommy Hilfiger and Yves Saint Laurent as well as the covers of fashion's most influential magazines including Vogue, Harper's Bazaar, Cosmopolitan, Elle, among others. Banks changed the modeling industry as a whole when she was the first African American woman on the covers of GQ, the Sports Illustrated Swimsuit Issue and the Victoria's Secret catalog, also becoming the first African American woman with a Victoria's Secret contract. In 2003, Banks transitioned to the small screen with America's Next Top Model, followed by the Tyra Show and she has appeared in feature films her most recent being The Hannah Montana Movie.